Breaking Down Health Reform's Grandfather Clause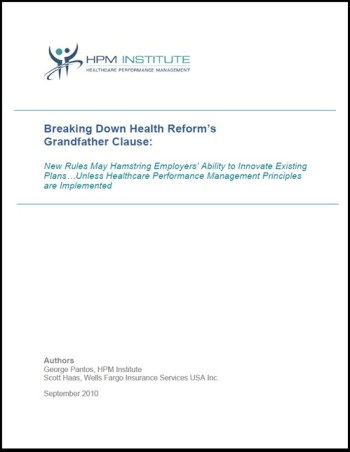 New Rules May Hamstring Employers' Ability to Innovate Existing Plans…
The grandfather clause is a provision in the Patient Protection and Affordable Care Act that seeks to keep a key promise made by the Obama administration: "If you like your health care plan, you can keep your health care plan." But interim final rules handed down by the Department of Health and Human Services (HHS) and other federal agencies June 17, 2010, appear likely to frustrate the intent of the law and hamstring employers' ability to offer the best coverage options in a cost-effective manner. In adopting an overly restrictive interpretation of the grandfather clause, the rules essentially diminish employer flexibility to make plan design changes by tying allowable changes to current plan structures.
A new report by the Healthcare Performance Management Institute examines the grandfather clause, the new HHS rules that will govern its implementation and the likely impact on employer health plans. The report also addresses factors organizations should consider when deciding whether or not the benefit of retaining grandfather status outweighs making certain plan design changes.
Click here to download a complimentary copy of this Healthcare Performance Management Institute report.
Want to learn more?
Listen to our recent StrategyDriven Editorial Perspective podcast interview with George Pantos, Executive Director of the Healthcare Performance Management Institute during which we discuss how companies can keep their current health plans in light of the recently passed healthcare legislation and under what circumstances they may wish to do so.
Related content from StrategyDriven
Podcast: Play in new window | Download (Duration: 19:57 — 27.4MB)
Subscribe: RSS
https://www.strategydriven.com/wp-content/uploads/SDELogo5-300x70-300x70.png
0
0
StrategyDriven
https://www.strategydriven.com/wp-content/uploads/SDELogo5-300x70-300x70.png
StrategyDriven
2010-10-01 06:05:06
2013-06-17 11:46:33
Breaking Down Health Reform's Grandfather Clause