Management Would be Easy if You Didn't Have to Deal with People, part 3 of 3
Conditions for Empowerment
We realize that so far this empowerment process looks fairly easy. Set the goals for everyone, establish their boundaries, and set 'em all loose.
As you might guess, it isn't quite that simple. But it's not too far off really.
Before a manager can put a team member in an empowered environment, the manager must be satisfied that the team member can meet some very specific conditions. They're quite straightforward, but they are absolutely critical.
There are three steps that we follow to ensure that our employees are correctly empowered – that they have both the responsibility and authority to conduct their activities effectively. We've already talked a bit about the first two: establishing goals and boundaries.
The third step is to ensure that the correct conditions exist between the manager and the employee. This third step is critical, but oftentimes it isn't even considered. We've found that without these conditions, the employee and the manager are doomed to failure. There are three of these conditions, all of which are equally important, and all of which must be demonstrated by the employee to the manager:[wcm_restrict]
Shared Principles
Reliability
Competency
The diagram below illustrates these three conditions. In order for anyone to be empowered effectively, they must share the principles of the manager and the organization, be reliable, and be competent.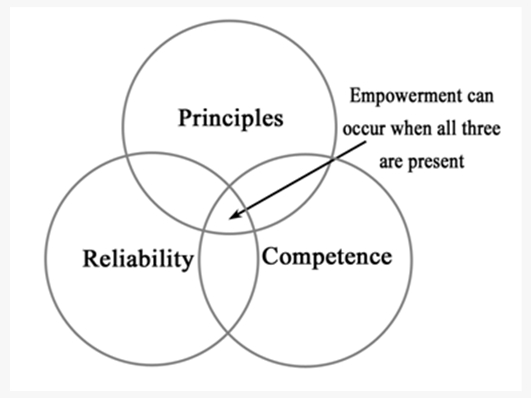 Figure 6: Conditions for Empowerment
All three of these conditions are necessary, and this is depicted by the rounded triangular area in the middle of the diagram. Two out of three isn't enough – the person in the position must exhibit all three conditions in order for a manager to empower her to achieve her goals on time and within bounds.
Principles include those moral, ethical, and other issues that must be shared, and agreed to, between supervisor and employee. These are standard rules of personal conduct that reflect the underlying beliefs of the company. Only when your principles are shared by your employees should you be willing to empower them to conduct activities on your behalf.
Reliability is critical because you need to know that your employees will do what they say. You can't manage effectively if you are constantly encountering crises at the 11th hour.
Competency is obviously necessary. None of us would purposely put incompetent people in any position, especially positions of high influence. You want your team to have the skills, knowledge, and natural abilities required for them to perform at a high level.
Wide Boulevards, High Curbs
When you have the right people, who you can fully empower, you can give them increasing responsibilities and goals. As a result, they can accomplish great things.
We think of this as 'wide boulevards, high curbs.' The team has lots of latitude, but the goals and the boundaries are clear and unambiguous.
The Process as a Diagnostic Tool
Establishing the framework for empowerment is a key step for your organization, and the empowerment process we've described here is designed to guide everyone in your organization in achieving their goals. It establishes the goals, sets boundaries, and provides criteria for the conditions that must exist for empowerment to occur.
The empowerment process also is a very effective means for diagnosing why goals are not being met. In this case, you can look at the boundaries, to ensure that they have been properly set and explained, and you also can look at the three-circle diagram to determine if there is some lack of principles, reliability, or competence. Then you'll know how to take corrective action.[/wcm_restrict][wcm_nonmember]
---
Hi there! This article is available for free. Login or register as a StrategyDriven Personal Business Advisor Self-Guided Client by:
Subscribing to the Self Guided Program - It's Free!
[/wcm_nonmember]
---
About the Author

John Cioffi received his first business education in his family's restaurant and lodging business. He later held executive positions in several companies, ranging from start-ups to a Fortune 100. He has been a business coach for more than 15 years, is a frequent business speaker, and is a partner in GoalMakers Management Consultants. He received a BA from Colby College, a master's degree from Dartmouth, and an MBA from Wharton.
Related content from StrategyDriven
https://www.strategydriven.com/wp-content/uploads/SDELogo5-300x70-300x70.png
0
0
StrategyDriven
https://www.strategydriven.com/wp-content/uploads/SDELogo5-300x70-300x70.png
StrategyDriven
2011-03-23 06:28:16
2016-08-28 15:41:06
Management Would be Easy if You Didn't Have to Deal with People, part 3 of 3