Recommended Resource – Secrets of Power Problem Solving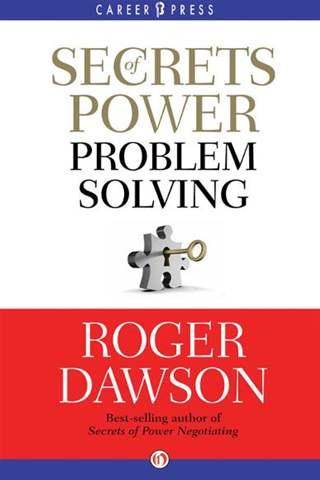 Secrets of Power Problem Solving
by Roger Dawson
About the Reference
Secrets of Power Problem Solving
by Roger Dawson provides an insightful examination of the theories and practices associated with decision-making. Throughout his book, Roger challenges commonly held beliefs about the decision-making process and provides actionable methods to effectively address problems of all types… of which he indicates there are only two, people and money issues.
In Secrets of Power Problem Solving, Roger presents methods for answering several key decision-making questions:
Does the Problem Deserve a Solution?
Is the Problem Real or Imagined?
How Quickly Should You Choose?
Intuition or Rapid Reasoning?
What Makes You a Great Problem Solver?
Benefits of Using this Reference
StrategyDriven Contributors like Secrets of Power Problem Solving because of its logical, well-structured approach to everyday decision-making that will be of value to new and seasoned professionals. Roger provides immediately implementable methods for effectively dealing with both people and money challenges. Furthermore, each chapter is summarized by a "Key points from this chapter" list that makes periodic review of his book for principles reinforcement easy and fast.
If we had one suggestion to offer it would be that the flow of the book and its recommendations would be more easily synthesized by the reader if an overview of the decision-making process was presented in the beginning of the book. This is a very minor point as a moderately experienced decision-maker can easily follow Roger's line of thinking throughout the book.
Effective decision-making is both a role and challenge for today's professionals. Secrets of Power Problem Solving's methods provide new and seasoned professionals with a collection of decision-making practices that will help them become better decision-makers. Additionally, the recommendations Roger presents throughout his book are very well aligned with StrategyDriven's decision-making best practices; making Secrets of Power Problem Solving a StrategyDriven recommended read.
Related content from StrategyDriven
https://www.strategydriven.com/wp-content/uploads/SDELogo5-300x70-300x70.png
0
0
StrategyDriven
https://www.strategydriven.com/wp-content/uploads/SDELogo5-300x70-300x70.png
StrategyDriven
2012-07-26 06:45:32
2016-05-02 18:18:41
Recommended Resource – Secrets of Power Problem Solving