Resource Management Best Practice 5 – Staggering Project Starts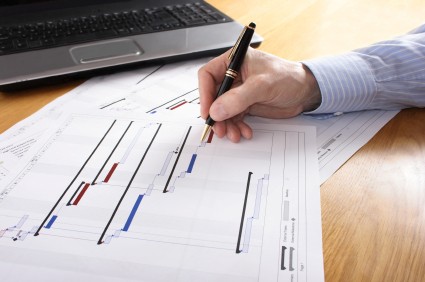 The spike in demand for consultants, services, and products around the first of the year (or in the government's case the beginning of October) appears to be a natural part of the business cycle. The fact that there is an onrush in spending, however, suggests the existence of an artificial driver. Truth be told, it's the time of year when many companies replenish their budgets and subsequently start or restart their projects – all at the same time. And while there may be a certain logic to this occurrence from a dollars and cents perspective, simultaneously launching so many projects challenges the organization from a human resource perspective, namely, that there are often not enough people within the organization to staff all of these projects at the same time.[wcm_restrict plans="40867, 25542, 25653″]
Staggering project starts helps alleviate problems created by the resource constraints associated with starting or restarting all of the organization's projects at the beginning of the fiscal year. Several of the organizational stresses relieved include but are not limited to:
enables key personnel resources to be fully involved with all appropriate projects a few at a time rather than being only partially involved with many at one time
mitigates the onset of employee frustration caused by being pulled in too many directions at one time, particularly among key staff members
reduces project manager frustration over the need to share key resources
alleviates lack-luster project starts because of personnel shortages
minimizes the number of consultants and staff augment team members needed thereby reducing costs
enables the organization to perform more projects by reducing the financial burden associated with the use of augmenting staff members and allowing those financial resources to be applied to other initiatives
enhances management oversight of organizational activities by reducing the number of projects they must monitor at any one time
lessens the frequency of portfolio rescoping outside of the business planning process resulting from personnel resource constraints
eases late in the year financial constraints by levelizing spending throughout the year rather than committing those resources within the first and second fiscal quarters
facilitates a smoother, less-severe chronic change management effort rather than a high impact acute one
Overall, staggering the organizations projects makes it more likely that those projects will be executed successfully because the full measure of the organization's knowledge, skills, and oversight can be brought to bear on the key initiatives helping the organization achieve the superior results it desires.[/wcm_restrict][wcm_nonmember plans="40867, 25542, 25653″]
---
Hi there! Gain access to this article with a StrategyDriven Insights Library – Total Access subscription or buy access to the article itself.
Subscribe to the StrategyDriven Insights Library

Sign-up now for your StrategyDriven Insights Library – Total Access subscription for as low as $15 / month (paid annually).

Not sure? Click here to learn more.

Buy the Article

Don't need a subscription? Buy access to Resource Management Best Practice 5 – Staggering Project Starts for just $2!
[/wcm_nonmember]
Related content from StrategyDriven
https://www.strategydriven.com/wp-content/uploads/StaggerProjects.jpg
282
425
StrategyDriven
https://www.strategydriven.com/wp-content/uploads/SDELogo5-300x70-300x70.png
StrategyDriven
2010-10-05 06:00:57
2018-10-07 17:07:15
Resource Management Best Practice 5 – Staggering Project Starts