Recommended Resources – Little Black Book of Connections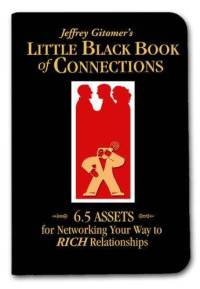 Little Black Book of Connections: 6.5 Assets for Networking Your Way to Rich Relationships

by Jeffrey Gitomer
About the Book
Little Black Book of Connections
by Jeffrey Gitomer provides practical, step-by-step methods for connecting with others in a wide variety of different roles including:
Superiors
Mentors
Co-workers
Customers
Vendors
Family and friends
As with his other books and numerous articles, Jeffrey addresses each communication challenge with a concise list of immediately implementable actions augmented by insightful tips for further improving individual performance.
Benefits of Using this Book
Connecting with others is the foundation of individual success. Without personal connections, we are unable to positively engage and influence those around us in a way that propels us to the achievement of our personal and professional goals.
StrategyDriven Contributors like the Little Black Book of Connections for its immediately actionable advice for creating meaningful relationships with others in a way that positively engages them to support the communicator. We've implemented many of the recommendations Jeffrey presents in his book to great success.
Jeffrey's principles for connecting with others promote respectful engagement. Recommendations contained within the Little Black Book of Connections focus on positive relationship building through the offering of open, honest communications and meaningful value provision by the communicator.
Little Black Book of Connections provides immediately actionable methods for effectively engaging others in a positive, respectful manner making it a StrategyDriven recommended read.
Related content from StrategyDriven
https://www.strategydriven.com/wp-content/uploads/SDELogo5-300x70-300x70.png
0
0
StrategyDriven
https://www.strategydriven.com/wp-content/uploads/SDELogo5-300x70-300x70.png
StrategyDriven
2012-12-27 06:26:36
2012-12-09 17:41:33
Recommended Resources – Little Black Book of Connections