Why Door Hanger Marketing Is A Dynamite Way To Target Your Niche
There are plenty of marketing strategies that one can use for their businesses. Of course, it depends on what messages those firms want to give, and how they wish to present it to their audience.
One creative way to market a brand is by using door hangers, believe it or not! Most people assume direct mail marketing is the only way of getting people's attention. Door hangers offer a fresh and innovative way to spread your message.
So, should you consider using door hangers to target your niche market? Here are a few reasons why it might make sense for your business: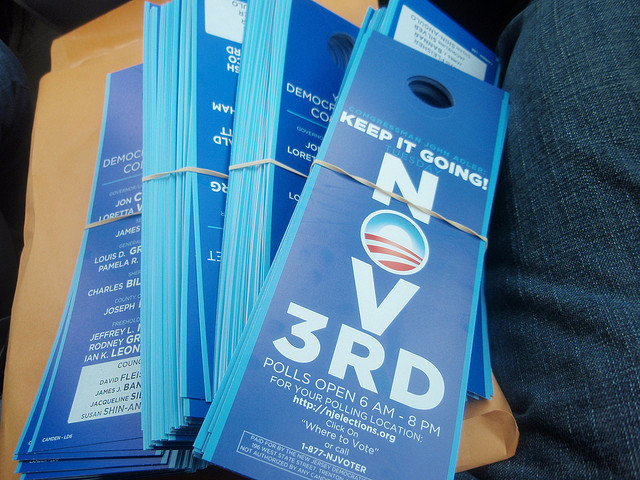 Photo courtesy of Michael M. S.
They are a fun way to grab people's attention
The thing about leaflets is people sometimes throw them away without reading them first. They have no choice but to read what's written on a hanger before they open the door!
Even if they aren't interested in your message, your door hanger will still be memorable. They might want to contact you at a later stage, or share your door hanger with a friend that could use your services.
There's no denying that business door hangers provide a fun and creative alternative to leaflets.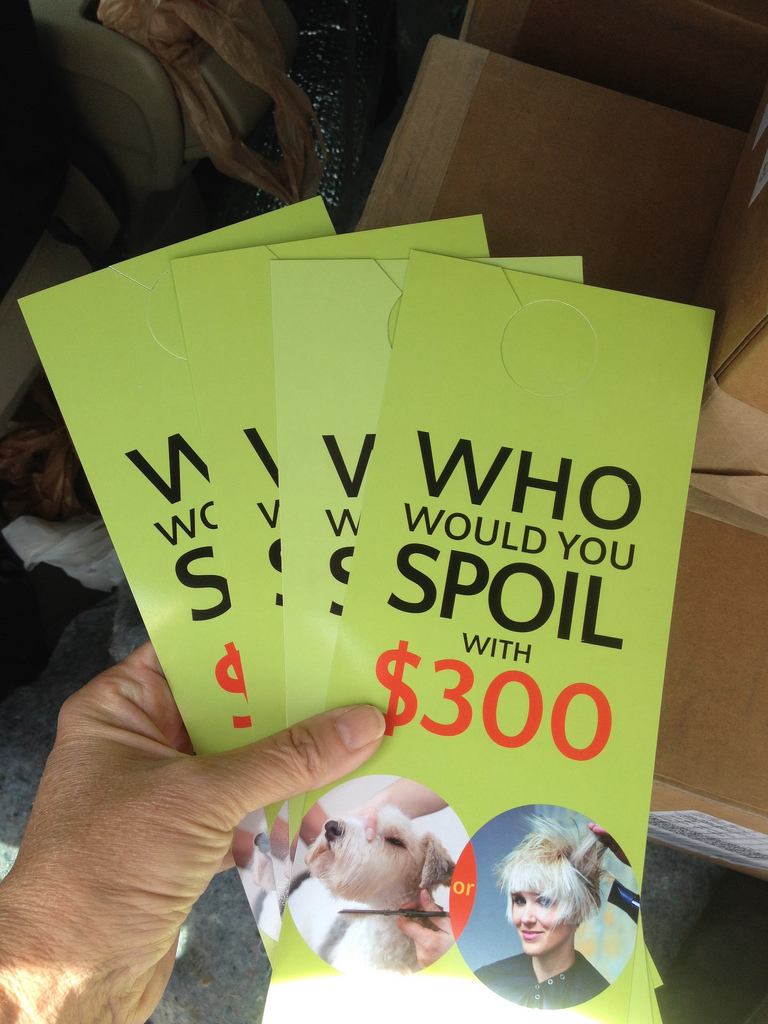 Photo courtesy of xcDogs
They are prominent
Leaflets and other mail usually gets left on the ground for a long time or in the mailbox. Door hangers are different. Even if people avoid their mailboxes, they can't avoid door hangers!
They are quite visible, and people can't help but notice them. They will stir their curiosity, and they'll take a few seconds to scan through your message. They won't just chuck your door hanger in the trash.
Customization options are limitless
With door hangers, you can get as creative as you want! There are millions of design possibilities. What's more, you can use any shape or size of door hanger to get your message across. For example, you could use a standard size one.
If you want to be different, you could design a novelty oversized door hanger! The choice is yours. You have full control of the layout, color scheme and, of course, the content.
Door hanger marketing is wallet-friendly
By now you might be wondering if embarking on such a marketing strategy will eat up your budget. The good news is that door hangers are a cost-effective way of promoting your brand.
They are often the same price or cheaper than getting leaflets printed out. Door hangers offer a higher ROI than flyers because of their prominence. And they are more successful than pricier marketing options.
They are easy to distribute
One thing that marketers hate about leaflets is getting their hands stuck in mailboxes! The beauty of door hangers is they are easy to distribute. All you have to do is walk up to a door, "hang" the door hanger and walk off.
You don't need to worry about those pesky mailboxes. And you don't even have to know on each door. Another benefit is your distribution costs will be cheaper. The reason is simple: door hangers are quicker to distribute!
So, when will you give door hanger marketing a go?
Related content from StrategyDriven
https://www.strategydriven.com/wp-content/uploads/SDELogo5-300x70-300x70.png
0
0
StrategyDriven
https://www.strategydriven.com/wp-content/uploads/SDELogo5-300x70-300x70.png
StrategyDriven
2015-11-20 11:00:16
2015-11-20 12:08:50
Why Door Hanger Marketing Is A Dynamite Way To Target Your Niche