Leadership Lessons from the United States Naval Academy – Don't Bilge Your Teammates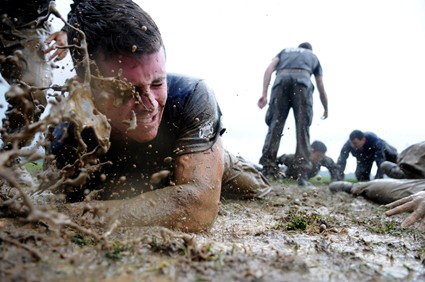 Bilge (n): nonsense; worthless and vain matter
Bilge (v): to damage, to fail or expel a student
Dictionary.com
Effective teamwork demands that each team member value and respect the others with whom they are working. Nothing diminishes this more than when one team member openly attacks or in some way seeks to diminish the value and respect of another.[wcm_restrict plans="25541, 25542, 25653″]
Bilging your teammate
How do people bilge their teammates? Bilging takes place in several forms and fashions some of which include:
publically airing out the shortcoming of a teammate
blaming others for team shortfalls
one upping a teammate publicly
taking credit for the actions of others
being a tattle tale especially if unsolicited
The team is only as strong as its weakest link
A team's performance can only be as good as its lowest performing member. While one might feel some justification or gain a sense of personal importance by putting others down, the act itself only serves to disenfranchise the targeted individuals; diminishing their performance and risking the same of other team members who now fear that they will be subject to similar putdowns.
Be a leader
Teams succeed when team members value and respect each other. Value and respect is gained not by covering up for an individual's shortcomings but by constructively helping them to recognize and overcome these challenges. As their performance improves, so too does that of the team. The weakest link is strengthened.
Not bilging a teammate is about being a team player and owning the team's results as though they were your own. By coaching instead of bilging, you forfeit a momentary sense of personal satisfaction, importance, or superiority and instead embraces team-centric accountability that serves to strengthen the team and enhance its performance.
Final Thought…
Every team has stronger and weaker members. Regardless, all team members should help their teammates improve their performance using the appropriate feedback mechanisms that include the private, constructive correction of undesired behaviors as well as the public, positive reinforcement of desired behaviors.[/wcm_restrict][wcm_nonmember plans="25541, 25542, 25653″]
---
Hi there! Gain access to this article with a FREE StrategyDriven Insights Library – Sample Subscription. It's FREE Forever with No Credit Card Required.
Sign-up now for your FREE StrategyDriven Insights Library – Sample Subscription
In addition to receiving access to Leadership Lessons from the United States Naval Academy – Don't Bilge Your Teammates, you'll help advance your career and business programs through anytime, anywhere access to:
A sampling of dozens of Premium how-to documents across 7 business functions and 28 associated programs
2,500+ Expert Contributor management and leadership articles
Expert advice provided via StrategyDriven's Advisors Corner
Best of all, it's FREE Forever with No Credit Card Required.
[/wcm_nonmember]
---
About the Author

Nathan Ives is a StrategyDriven Principal and Class of 1992 graduate from the United States Naval Academy. For over twenty years, he has served as trusted advisor to executives and managers at dozens of Fortune 500 and smaller companies in the areas of management effectiveness, organizational development, and process improvement. To read Nathan's complete biography, click here.
Related content from StrategyDriven
https://www.strategydriven.com/wp-content/uploads/BilgeTeammates.jpg
282
425
Nathan Ives
https://www.strategydriven.com/wp-content/uploads/SDELogo5-300x70-300x70.png
Nathan Ives
2016-03-01 11:00:42
2019-07-14 14:13:28
Leadership Lessons from the United States Naval Academy – Don't Bilge Your Teammates