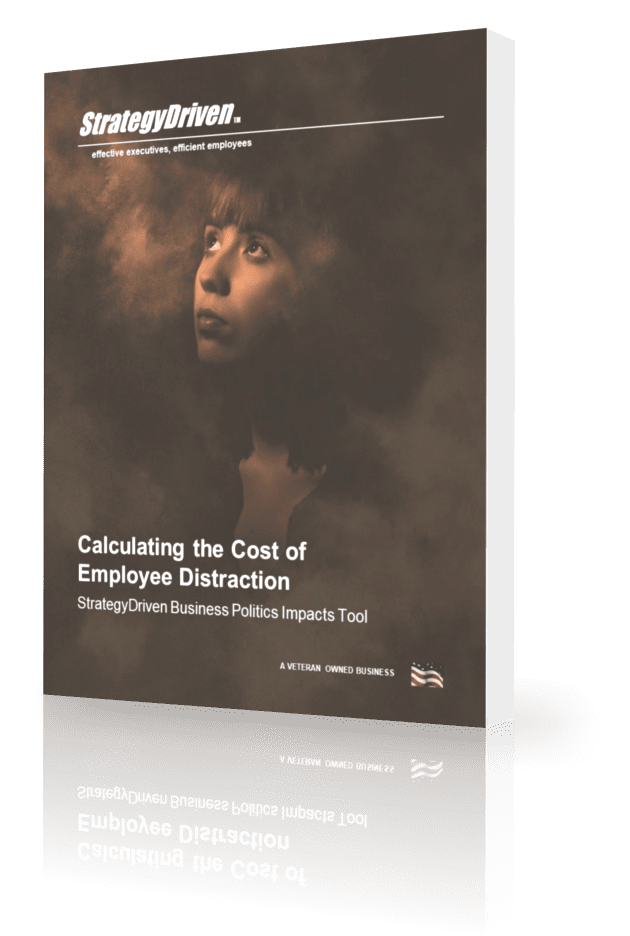 All workplace environments have distractions diverting employees' attention and diminishing productivity. Some of these distractions are simply a part of the human condition, our physical, intellectual, and social needs for diversionary activity. Others, however, are induced by workplace structures, policies, and employees (executives, managers, supervisors, and individual contributors) including through the abusive exercise of business politics.
Business politics vary in their impact on employee productivity. The exercise of power in a coercive or intentionally disrespectful and demeaning way creates a hostile work environment driving employees to spend significant non-productive time worrying about and avoiding these situations and people.
Using the StrategyDriven Calculating the Cost of Employee Distraction nomographs and method outlined here, organization leaders can gain a better appreciation for the direct monetary cost associated with employee distractions associated with destructive workplace politics.
---
Hi there! Gain access to this tool with a StrategyDriven Insights Library – Total Access subscription or buy access to the tool itself.
Subscribe to the StrategyDriven Insights Library

Sign-up now for your StrategyDriven Insights Library – Total Access subscription for as low as $15 / month (paid annually).

Not sure? Click here to learn more.

Buy the Article

Don't need a subscription? Buy access to the Business Politics Impacts – Cost of Employee Distraction article and gain access to this accompanying tool for just $2!