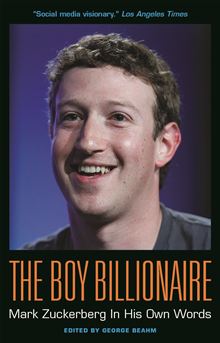 The Boy Billionaire: Mark Zuckerberg In His Own Words
edited by George Beahm
About the Book
The Boy Billionaire
edited by George Beahm reveals Mark Zuckerberg's core philosophies and approaches to building Facebook in a way no other author has been able to achieve… because these insights come directly from Mark Zuckerberg himself. George's book systematically covers a wide range of topics from 'Mission' to 'Process' and 'Vision' to 'Accountability' and 'Values'.
Throughout The Boy Billionaire, several central these are revealed:
identify the very few things that add value and focus on those
move quickly and don't be afraid to make mistakes
empower people to connect, to control, and to take bold action
Benefits of Reading this Book
StrategyDriven Contributors like The Boy Billionaire because it reveals the intimate thoughts and beliefs of the man who is arguably created one of the world's largest companies (albeit unintentionally) and who is also one of the world's greatest social connectors. While Mark Zuckerberg didn't set out to build a highly successful enterprise, his understanding of people's inherent need to connect and ability to translate that need into a power online experience reveals important lessons for any business leader seeking to gain customers via the internet.
StrategyDriven Contributors appreciated the layout of The Boy Billionaire, the organization of quotes around meaningful topic areas, the dating of each quote, and Mark Zuckerberg's life story timeline provided at the end of the book. We found that knowing the setting and circumstances of the Mark Zuckerberg's quotes provided insightful context from which to interpret them. As such, we recommend first-time readers review the 'Milestones' timeline presented at the end of the book first and refer to it often when reading individual quotes.
The only drawback to The Boy Billionaire is that Mark Zuckerberg's relative youthfulness and media shyness results in far more limited insight to his core beliefs than similar works on Steve Jobs, Bill Gates, and Warren Buffett.
For it's intimate portrayal of an unintentional American entrepreneurial icon, The Boy Billionaire is a StrategyDriven recommended read.
Related content from StrategyDriven
https://www.strategydriven.com/wp-content/uploads/SDELogo5-300x70-300x70.png
0
0
StrategyDriven
https://www.strategydriven.com/wp-content/uploads/SDELogo5-300x70-300x70.png
StrategyDriven
2013-03-28 06:51:11
2013-04-05 21:54:34
Recommended Resources – The Boy Billionaire