StrategyDriven White Paper Advises Leaders on Preventing Catastrophic Industrial Accidents
StrategyDriven's Preventing Catastrophic Industrial Accidents reveals how high-risk industry leaders can reduce their significant event risk exposure through application of safety-first principles.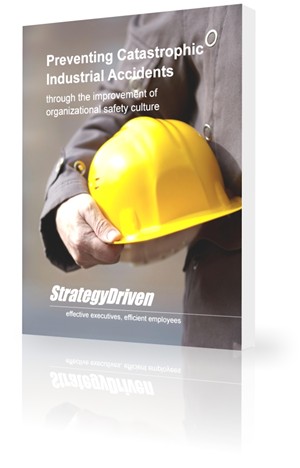 StrategyDriven released Preventing Catastrophic Industrial Accidents, a white paper revealing how high-risk industry leaders can reduce their significant event risk exposure through the cost effective adaptation of key aspects of the U.S. nuclear industry's safety-first principles.
After the several recent catastrophic industrial accidents within the United States, including the devastating explosions at a Texas fertilizer plant and Louisiana chemical plant, StrategyDriven wanted to help industrial and utility leaders reduce the risk of similar accidents at their facilities.
"Many of today's significant industrial accidents are preventable, the byproduct of human errors made when safety was subordinated to other priorities," explains Nathan Ives, StrategyDriven's President and Chief Executive Officer. "By fostering an organizational culture that puts safety-first, executives and managers create a workplace environment where errors are recognized and proactively corrected before they result in a material event."
"An effective safety culture is far more than slogans and posters," continues Greg Gaskey, StrategyDriven's Chief Operations Officer. "It permeates the organization's performance standards, operating processes, training programs, rewards systems, and, most importantly, the decisions and behaviors of everyone from the C-Suite to the shop floor."
Nathan and Greg authored Preventing Catastrophic Industrial Accidents based on their decades of experience managing nuclear and industrial complex operations. Additionally, Nathan led the development of the nuclear industry's operational risk management, high-risk decision management, and plant operations performance standards while working at the Institute of Nuclear Power Operations.
Highlights from Preventing Catastrophic Industrial Accidents include:
Safety Culture Attributes – safety focused executives, managers, and employees collectively assume responsibility for both their and their co-workers' safety; embody a questioning attitude; encourage issue reporting and priority-based resolution; employ error reduction techniques; embed safety-first features within operational, training, and rewards programs; and embrace ongoing organizational learning
Identifying the Strength of Your Safety Culture – artifacts of the safety-first values are not only found in the outcomes achieved, but also reside in the organization's goals and performance measures, standards and expectations, policies and procedures, rewards systems, training, and organizational learning and continuous improvement programs
Improving Your Safety Culture – individuals at all levels of the organization must be engaged in order to foster a robust safety culture; originating from executive defined attributes and goals and translated to the day-to-day decisions and actions of all employees
Preventing Catastrophic Industrial Accidents is being distributed to StrategyDriven's clients, including some of the world's largest utility operators. Download the white paper by clicking here.
---
About the Authors

Nathan Ives is a StrategyDriven Principal, and Host of the StrategyDriven Podcast. For over twenty years, he has served as trusted advisor to executives and managers at dozens of Fortune 500 and smaller companies in the areas of management effectiveness, organizational development, and process improvement. To read Nathan's complete biography, click here.
Greg Gaskey is a StrategyDriven Principal with over twenty years of nuclear plant operations, maintenance, and large-scale program and project management experience. An experienced Operations Manager, he has managed critical Department of Defense programs, projects, and business lines; spanning multiple engineering maintenance disciplines including mechanical, electrical, hydraulic, and instrumentation and controls systems. To read Greg's complete biography, click here.
Related content from StrategyDriven
https://www.strategydriven.com/wp-content/uploads/PreventingEventsCoverGraphic.jpg
903
592
Nathan Ives
https://www.strategydriven.com/wp-content/uploads/SDELogo5-300x70-300x70.png
Nathan Ives
2013-07-31 06:48:02
2016-05-06 09:20:51
StrategyDriven White Paper Advises Leaders on Preventing Catastrophic Industrial Accidents