4 Ways to Make Your SME More Professional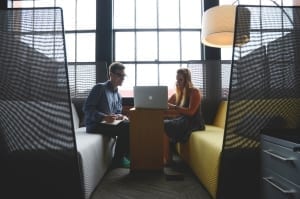 Whether you have a full-sized office and plethora of staff, or you're still working from your bedroom and nothing more than a laptop, you want your business to look and feel as big as possible. Even if your social media marketing team is your tech-savvy niece and your warehouse manager is your spouse boxing up a product, there are still ways that you can make your business look and feel bigger than it is. If you're looking to exude a more professional business persona, then here are some of the easiest and most cost-effective ways of adding that much-needed touch of professionalism to your SME.
Focus on the Digital
If you're working from a small room, then your digital presence is going to be where you need to make the best first impression. Website design can get very complicated very quickly, so if you lack the skills, then it's imperative that you source them. Whether that's through friends or a professional will depend on your budget, but don't make the mistake of thinking that a free template from WordPress of Wix is going to be enough.
While you may get a slick looking theme, you'll be lumbered with a web address that ends with wordpress.com or wix.com.
This is not a professional look. It's also increasingly vital that you have a presence on social media, but don't panic about registering with them all. Stick to the two that are most relevant for your brand and sector. Make sure that you know how to conduct yourself professionally online, and remember that your digital marketing will be reliant on your ability to create engaging content.
Payments and Paperwork
Efficiency is the key to appearing to be larger and more professional. No matter how small your business might be, make sure that you use free online estimate templates when potential customers need a pricing quote and use similarly themed invoice templates as well. Not only does this make you look more professional, but it also makes it much easier to keep your paperwork in order, and that can help to increase productivity and reduce workflow interruptions.
You should also make it a priority to ensure that all quotes and invoices are sent promptly and that your bills are paid quickly as well.
Word of mouth can damage a business of any size, and a poor history of not paying your suppliers on time will only hinder your ability to perform. Use software to manage your accounts more easily, and make sure that you have a constantly updated calendar to ensure that you know when bills are expected so that you're not hit by the unexpected.
Improve your Address
If you're using a home office, then you need to make sure that your business is not negatively affected. Residential business addresses might not be the deciding factor that makes or breaks your venture, but it can have an impact. Ideally, you want a more established address, and there are a variety of options available.
The rise of the managed office space has been very positive for SMEs, and even if you only use the space on occasion, many now allow you to use their premises as your business address.
This is not only better for you in terms of first impressions; it also means that you will have somewhere professional to meet with prospective customers or suppliers. The majority of managed offices are based in cities, meaning that you also get the benefit of a city center address without the expense of your own dedicated office rental.
Dress the Part
It's not just about wearing a suit and tie (not every SME is going to need that), it's about presenting your brand to the outside world so that you make the best first impression. While this is vital for your website, it also extends to peripheral elements as well. If you pull up to meet with a prospective client in a suit and tie but in a car that spills rubbish onto the road when you open the door, then you have forever lost the chance to make a good first impression.
Make sure that you focus on the details. Phone calls need to be answered politely and professionally, and you might even consider hiring a remote, virtual receptionist to make your business seem even larger.
The key to appearing more professional is to know what customers are looking for from you. However, get the basics right in terms of first impressions, and you will instantly seem a more dynamic and professional business.
Running an SME can be fraught with challenges and stress, but the people that your business interacts with should never feel that you are struggling. It's all about having the foundations in place. Get your professionalism looking bigger, brighter, and more on brand than your competitors, and you stand a much better chance of attracting the profits that you need to thrive.
Related content from StrategyDriven
https://www.strategydriven.com/wp-content/uploads/61896343-5500-49DE-8882-A050761A249C.jpeg
847
1280
StrategyDriven
https://www.strategydriven.com/wp-content/uploads/SDELogo5-300x70-300x70.png
StrategyDriven
2019-05-31 16:00:14
2019-06-01 11:21:59
4 Ways to Make Your SME More Professional