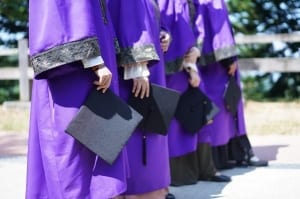 Most companies wrongly believe that they should recruit experienced candidates only. But the truth is that a talented college graduate can become a better employee, than an applicant with ten years' experience.
If you doubt whether recent graduate can benefit your company, read this article. Here are eight reasons, which prove that if you hire a young, ambitious candidate, you will make the right choice.
Cheap labor force
Let's be frank. A recent college graduate doesn't expect to get as high salary as a professional with 20 years of experience under its belt. So if your company operate on a tight budget, don't hesitate to hire a graduate. It will save you lots of money.
The truth is that new graduates deal with a Catch-22 situation. To get a job, they need experience. And to gain at least some experience, they need to land a job. And it's very challenging for an inexperienced applicant to break this circle.
So it's not a surprise that some recent college graduates are ready to work almost for free. They are interested in gaining experience more than earning money. Why don't you take advantage of it?
Benefits and perks
If you run a small business, it's highly likely that you can't offer such benefits as health insurance and retirement plan to your employees. But it's not a big deal when it comes to recruiting recent graduates. Graduates will not decline your offer just because you can't pay for dental insurance and vision care.
The trick is that most young professionals have no concerns regarding their health and retirement. If you want to win their attention, you can offer such small bonuses such as free coffee and cookies.
But keep in mind that you should always be open and honest with the applicants. Don't try to trick the naïve college graduates. If you don't provide insurance or other perks, just state it clearly.
Ambitious
Recent graduates are ambitious and dedicated to work. And they tend to set high career goals. They are ready to work really hard to get promoted.
As a rule, young people don't mind to stay at the office after 6 p.m. or work on weekends. They clearly understand that their theoretical knowledge is not enough to build an outstanding career.
So they work as hard as they can to gain more experience and to present their talents in the most favorable light. They dream of being noticed.
So if you are looking for a dedicated, hardworking employee, you know what to do. Hire a recent college graduate and provide him with opportunities to gain more experience.
Learn fast
Naturally, young graduates are the most effective learners. They are able to absorb new knowledge and master new skills much faster than others.
So if you are going to implement a new training program, or incorporate new sophisticated software, you need graduates in your team. They will learn everything fast and then will pass knowledge to other team members.
Does your company operate in the industry, where it's crucial to apply innovative solutions as soon as they appear in the market? If yes, then it's crucially important to invite new graduates to your team. They will help your current employees to adapt to a new system.
Business trips
Are you looking for an employee, who will be able to travel a lot? You can look no further than recent graduates. As a rule, they have no kids and no family. So they are not attached to the place.
If you need someone who will never complain about having ten business trips a month, hire a graduate. You can be sure that it will be the right choice.
As you know, most young people like to travel, so they will be happy to accept your job offer. However, you should never hide information about the frequency of business trips. Also, you should be ready to answer all the questions related to travel expenses.
Educate new leaders
Most corporations like to hire recent college graduates. They also offer plenty of internship programs. Do you know why?
Big companies don't want to attract leaders from the outside. They prefer to grow their own leaders who know the company from the inside. They need someone who will not break the existing corporate culture but keep developing it.
If you want to achieve success in the long run, you should also try to grow leadership from within your company. To hit this goal, you should recruit recent college graduates and do the following:
Empower new employees through mentorship
Delegate as many tasks as possible
Be patient and don't set too high expectations. A new employee will not turn to be a perfect leader overnight
Grab the talents
A successful company is always about the right set of employees. The more talents you have in your team, the more likely your business will be profitable in the long run.
An effective talent acquisition strategy is a must in the following situations:
Your company operates in the following sectors: technologies, medicine, or financial management
Your company faces intense competition
Your company is growing fast
It's important to understand that an applicant shouldn't be experienced to be talented. If you believe that a young graduate has great potential, recruit him without having any doubts. Otherwise, your competitors will do it instead of you.
As you know, there is always a lack of true talents. So if you miss an opportunity to hire a brilliant college student today, you will regret that later.
Creativity
College graduates are able to take a new look at old problems, which exist in your company. They can help you to find a brand new solution and optimize major business processes.
The point is that inexperienced employees tend to see everything from another angle. They are curious about everything that is happening in the company.
Graduates are like superheroes. They have a super ability to spot the issues, which you haven't been noticing for years.
Life experience
Also, you shouldn't forget one important thing. If a college graduate doesn't have work experience, it doesn't mean that he doesn't have experience at all.
Let's say your company is looking for a content marketer. One of the applicants is 23 years old girl Jessica. She has just graduated from college. Consequently, she has no working experience.
However, it's known that she was a volunteer at found raising organization where she was responsible for managing social media accounts. Also, she had a freelance job – she was a moderator at college essay editing service reviews website.
Well, these skills and experience are not enough for taking a management job. But if you want to add "new blood" to your marketing team, Jessica will be a perfect fit.
Wrapping it up
As you can see, it's not a bad idea to recruit college graduates. If you choose the right candidates, they will help you to take your company to the next level.
Don't hesitate to invite young professionals to your team. Provide them with the opportunity of career growth and they will move your business up.
---
About the Author

Daniela McVicker is a freelance writer, blogger, and a contributor to RatedByStudents. She graduated from Durham University and has an MA in psychological science. Her passion is traveling and finding ways to enrich students' learning experience.
FREE related content from StrategyDriven
https://www.strategydriven.com/wp-content/uploads/convocation-4119260_1280.jpg
851
1280
Sharon Kastoriano
https://www.strategydriven.com/wp-content/uploads/SDELogo5-300x70-300x70.png
Sharon Kastoriano
2019-07-03 08:00:58
2019-07-04 12:30:42
8 Reasons Why You Should Recruit Recent College Graduates