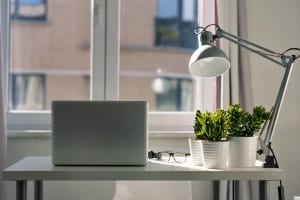 With the coronavirus pandemic that has ravaged the world for several months, many people now see the importance of having a home office. However, if you want to create a perfect home office for yourself, you need to consider several factors such as the interior design lightning, and so on.
Each person has a specific environment that works for them. Designing your home office space to suit your preference will go a long way to determine how productive you will be when you work from the space. This article will discuss some of the important factors to consider when designing the perfect home office.
Paint the Walls a Color You Love
Colors, when used properly, adds to the beauty of a space. You can get the best interior design for your home office space from the residential architects at dSpace Studio. Before choosing just any color to paint the walls of your home office space, you need to understand how they affect your mood.
According to Times Now News, some colors such as red are associated with energy and passion, while others like orange can bring a feeling of comfort. If you are painting your home office with mixed colors, you need to choose those that will help increase your productivity and not reduce it.
Lighting is Key
Aside from painting the wall of your home office, putting the right amount of light is also essential. This can be lighting from a natural source such as the sun or from a synthetic source such as an electric bulb. The main thing is, having good lighting in an office space contributes positively to the productivity of employees.
This is because dim or harsh lighting can strain the eyes, making it harder to focus, leading to headaches or other health issues. Thus, when designing and setting up your home office, it is essential that you follow the standards set by health and safety organizations.

Plan for Distractions
One of the common problems that most people face working from their home office space is distractions. If you are a parent, this distraction can come from your little kids. For others, they simply find it difficult to concentrate because they feel too relaxed since they are working from home.
When designing your home office yourself or contracting it out to professional architects and interior designers, you need to have an action plan for distractions. You may consider putting up signs at your door to let your kids, roommates, spouse, or other family members know that you must not be disturbed.
Other Considerations
Aside from painting your home office wall with colors that you love and installing adequate lighting, there are other factors that you can consider to create the perfect working space. You can purchase a candle with a nice aroma and light it in your home office space to help you feel relaxed and focused as you work.
You can also install one or more cameras in your home office space and check the recorded feed after each working day to know how you spent your time. This way, you can understand what puts you in the mood to work and what you need to adjust. In the end, you'll be able to increase your productivity.
FREE related content from StrategyDriven
https://www.strategydriven.com/wp-content/uploads/laptop-5582775_1280.jpg
853
1280
StrategyDriven
https://www.strategydriven.com/wp-content/uploads/SDELogo5-300x70-300x70.png
StrategyDriven
2020-10-26 20:00:47
2020-11-08 17:49:09
Creating the Perfect Home Office