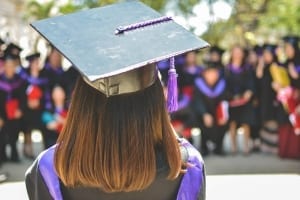 It's that time of year again. Thousands of qualified college graduates are getting set to enter the workforce. They were promised that their hard work and diligence will earn them an attractive job and a high chance of success. With ambition, motivation, and dreams, scores of young men and women will forge their way into the business world. Some of them have lofty goals of entrepreneurship. Many are under the impression that whatever works for high profile examples of successful leaders in business will also work for them. Public information and theory are often misleading, and so is attempting to imitate another company's or leader's blueprint. According to some experts, new college graduates often make five brutal mistakes as they try to navigate their own potential new enterprise.
1. Recent college graduates think they know a lot more than they do upon graduation. Implementation is different to theory and ideas, so you need to be able to bring operational performance and many other skills to the table. Knowledge is one thing, but true execution will provide the experience you really need.
2. Many do not understand how funding works and the capitol needed in the initial phases of a business. Inexperienced people are misled when it comes to startup funding and what is needed to begin and grow a business. Often young founders don't think about basic concepts like unit economics, which is selling something for more than what it costs to make. Even some very well funded startups tend to ignore this.
3. Raising funds does not equal success. Many young entrepreneurs are focused on the superficial belief that the more money they raise, the more successful their business is going to be. While it's true that, everything else being equal, having more money to spend on your business is good, there is a lot more to it than that simple formula. Plenty of businesses fail because they raised too much money and it encouraged them to do things that didn't make sense. Many other businesses fail because they raised money that they believed would fund all of their dreams of growth, but it wasn't nearly enough. Other businesses fail because they raise the wrong kind of money, such as debt they can't repay on time or equity that causes them to lose control of their business.
4. Inexperienced founders often overestimate their own importance and don't appreciate the importance of the team they build around them. It is not easy to find skilled people who also happen to be a good fit for the culture and mission of your enterprise. This takes a lot more time, effort, and trial and error than many founders realize if they haven't done it before. You need a great team to build a great team. But that the classic chicken and egg problem you have to solve. You have to be careful, and realize you will make mistakes, about who you hire early in the life of your company. Only offer substantial equity and responsibility to those who have proven themselves. Recognize your hiring mistakes and correct them quickly. Teams often don't rise to the level of their best people. They often sink to the level of their worst people. Keep that in mind as you build your company.
5. Know and own your limitations. Young innovators especially, though it applies even to more experienced entrepreneurs, tend to lack self-awareness of their own weaknesses. These blind spots can be disastrous. Most highly successful people understand their weaknesses and surround themselves with others who can do what they cannot, who share a similar vision, and with whom they can collaborate. Inexperience can lead to overconfidence. This is an especially dangerous pitfall for early stage startups and new entrepreneurs.
Elizabeth Holmes and Theranos is a good example of a culmination of all 5 of these mistakes and what inexperience can do to a business idea. She raised $900 million. Her company was worth billions. She was on the cover of magazines and featured on TV shows and one of the best founders in a generation. But it ended in failure and she may go to prison for her behavior.
There are real world, and sometimes life altering, consequences for making these mistakes. Think through your decisions carefully and be aware of the risks you take as you pursue your exciting and hopefully rewarding entrepreneurial journey.
---
About the Author
Christopher Grey is the co-founder and COO of CapLinked, and enterprise software company offering an information control and risk mitigation platform for the sharing of confidential or sensitive documents and communications outside of the enterprise. Previously, he was a senior executive and managing partner in private equity and corporate finance for 15 years and directly involved in the deployment and management of billions of dollars of debt and equity investments in various industries. Christopher founded two companies, Crestridge Investments, a private equity firm that made debt and equity investments in micro cap and middle market companies, and Third Wave Partners, which made debt and equity investments in distressed situations, and was managing director of a subsidiary of Emigrant Bank, the largest privately owned bank in the country. Most recently, he is a co-founder of TransitNet, a platform for security token issuers offering title verification, chain of ownership tracking, and other post issuance tools for improving the security and reliability of security token ownership.
https://www.strategydriven.com/wp-content/uploads/CollegeGraduate.jpg
800
1200
StrategyDriven
https://www.strategydriven.com/wp-content/uploads/SDELogo5-300x70-300x70.png
StrategyDriven
2019-05-20 11:00:51
2019-05-18 13:50:09
5 Mistakes New College Grads Make as They Enter Entrepreneurship