Results start with a strong strategic principle - a shared objective about what the organization wants to accomplish. The strategic principle guides the company's allocation of scarce resources - money, time, and talent.
The strategic principle doesn't merely aggregate a collection of objectives.
Landing in the Executive Chair: How to Excel in the Hot Seat
by Linda Henman

In today's fast-paced, unprecedented, and unpredictable economy, many executives simply don't know what to do. Conventional methods-which many never entirely understood in the first place-often don't work during economic upheaval. Executives, especially CEOs, need something better. They need a guide that identifies the roadblocks and points out the landmines. In her more than 30 years of working with hundreds of executives, Dr. Linda Henman has observed the critical elements of success, both for the new leader and the one who aspires to the next level of success. In Landing in the Executive Chair, you'll learn how to:

Avoid the pitfalls and identify a clear plan for personal and organizational stress.
Leverage the first months in a new executive position- that time of transition that promises opportunity and challenge, but also brings a period of great vulnerability.
Create a competitive advantage, set the right tone, make effective decisions, keep talent inside your doors, and establish credibility-all while navigating unfamiliar and turbulent waters.

As organizations expand and grow, the skills that led to success often won't sustain further development in a more complex, high-stakes environment. Present and future executives need more. They need Landing in the Executive Chair.
Rather, this simple statement captures the thinking required to build a sustainable competitive advantage that forces trade-offs among competing resources, tests the soundness of particular initiatives, and sets clear boundaries within which decision makers must operate.
Creating and adhering to a concise, unforgettable, action phrase can help everyone keep an eye on the ball at all times. Wal-Mart offers one of the most well-known strategic principles: Low prices, every day.
A well-thought-out strategic principle pinpoints the intersection of the organization's passion, excellence, and profitability, or in the case of not-for-profit organizations, its unique contribution. As you can see from the graphic, success lies at the intersection of the three. (See Figure 1)
If your organization operates in section one, you will probably experience some short-term success. People who can do the work they feel passionate about and engage in work that rewards efforts with large monetary compensation, can often stay in the game for the short run. But if you aren't the best, the competition will soon surpass you.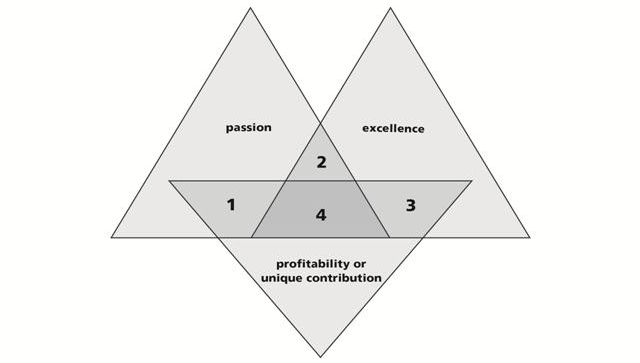 Figure 1: Strategic Success
Passion and excellence without profitability, or section two, won't even allow you a short run. This undisciplined orientation - to do what you like and are good at - without consideration of the market, won't provide anything other than some short-lived fun, which should last right up until the time your bills come.
Section three is a recipe for burn out. You can work hard at something you're good at and that makes you significant money, but you won't excel at it for long unless you feel some passion for it.
Sustained success lies in area four, the intersection of passion, excellence, and profitability. Only here can your organization thrive as you work diligently to produce a product or service that your competition can't match.
When companies face change or turmoil, the strategic principle acts as a beacon that keeps the ships from running aground. It helps maintain consistency but gives managers the freedom to make decisions that are right for their part of the organization. Even when the leadership changes, or the economic landscape shifts, the strategic principle remains the same. It helps decision makers know when to develop new practices, products, and markets. When they face a choice, decision-makers will be able to test their options against the strategic principle by simply applying the three-part litmus tests:
Are we passionate about his work?
Can we do it better than our competitors?
Will it make us money?
When designed and executed well, a strategic principle gives people clear direction while inspiring them to be flexible and take risks. It offers a disciplined way to think about decisions, strategy, and execution and challenges people to play an ever-evolving better game.
---
About the Author

For more than 30 years, Linda Henman has helped leaders in Fortune 500 Companies, small businesses, and military organizations define their direction and select the best people to put their strategies in motion.
Linda holds a Ph.D. in organizational systems, two Master of Arts degrees in interpersonal communication and organizational development, and a Bachelor of Science degree in communication. By combining her experience as an organizational consultant with her education in business, she offers her clients selection, coaching, and consulting solutions that are pragmatic in their approach and sound in their foundation.