Strategic Planning Best Practice 8 – Results First, Actions Second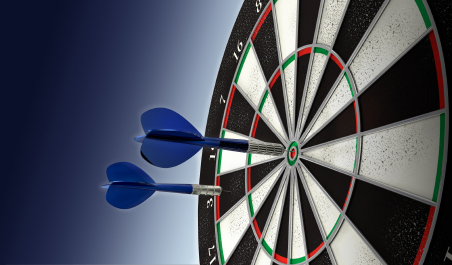 Too often, organizations biased to action move forward with projects and initiatives before defining the results to be achieved. This shotgun approach resembles the marksman who shoots, shoots some more, and then aims. And like the marksman who doesn't first aim, the organization may or may not achieve its desired goals. Even if the goals are met, it is likely that many of the activities pursued contributed little or not at all to the organization's goals; ultimately, wasting precious time and resources.[wcm_restrict plans="40647, 25542, 25653″]
Results first, actions second refers to the planning process were desired outcomes are first identified and performance goals clearly defined before the many actions that might enable the organization to achieve those results are assessed, the costs-benefits determined, and the portfolio of the most value adding activities selected. This planning process has several steps including:
Step 1 – Executives explicitly define the goals and/or objectives to be achieved.
Step 2 – Managers assemble a list of activities to move the organization toward achievement of the defined goals. An array of activities are reviewed and assessed because it is unlikely that a single activity, pursued in isolation, would be capable of fully satisfying the organization's goals.
Step 3 – From the activity list, executives select and prioritize mix of activities offering the greatest value potential given the limitations of the organization's available resources. These activities represent the portfolio of value adding options to be pursued by the organization.
Note that the list of activities compiled by the management team should include one-time projects and initiatives and the major ongoing activities the organization routinely performs. It is only when all work is considered in aggregate that the most value adding activities can be identified and those offering little or no value, including activities that have been routinely performed for extended periods, can be targeted for improvement or elimination.
Results first, actions second offers significant benefit to an organization. By aligning the organization's activities to established goals and objectives, executives can more readily identify and eliminate low value adding activities; enabling better employment of limited resources toward value creation. By establishing a relative priority for all of the organization's activities, decision-makers at all levels are provided the guidance they need to ensure resources are allocated in a way that maximizes the organization's overall chances for success. Employing the results first, actions second philosophy truly helps an organization become strategy driven.[/wcm_restrict][wcm_nonmember plans="40647, 25542, 25653″]
---
Hi there! Gain access to this article with a StrategyDriven Insights Library – Total Access subscription or buy access to the article itself.
Subscribe to the StrategyDriven Insights Library

Sign-up now for your StrategyDriven Insights Library – Total Access subscription for as low as $15 / month (paid annually).

Not sure? Click here to learn more.

Buy the Article

Don't need a subscription? Buy access to Strategic Planning Best Practice 8 – Results First, Actions Second for just $2!
[/wcm_nonmember]
---
About the Author

Nathan Ives is a StrategyDriven Principal and Host of the StrategyDriven Podcast. For over twenty years, he has served as trusted advisor to executives and managers at dozens of Fortune 500 and smaller companies in the areas of management effectiveness, organizational development, and process improvement. To read Nathan's complete biography, click here.
Related content from StrategyDriven
https://www.strategydriven.com/wp-content/uploads/DartTarget.jpg
265
452
StrategyDriven
https://www.strategydriven.com/wp-content/uploads/SDELogo5-300x70-300x70.png
StrategyDriven
2007-09-20 17:56:16
2018-09-16 13:50:56
Strategic Planning Best Practice 8 – Results First, Actions Second