The Happiness Advantage: Escaping the Cult of the Average
Excerpt from The Happiness Advantage…
The graph below (see Figure 1) may seem boring, but it is the very reason I wake up excited every morning. (Clearly, I live a very exciting life.) It is also the basis of the research underlying this book. This is a scatter-plot diagram. Each dot represents an individual, and each axis represents some variable.
This particular diagram could be plotting anything: weight in relation to height, sleep in relation to energy, happiness in relation to success, and so on. If we got this data back as researchers, we would be thrilled because very clearly there is a trend going on here, and that means that we can get published, which in the academic world is all that really matters. The fact that there is one weird red dot – what we call an outlier – up above the curve is no problem. It's no problem because we can just delete it. We can delete it because it's clearly a measurement error – and we know that it's an error because it's screwing up our data.
[wcm_restrict]One of the very first things students in intro psychology, statistics, or economics courses learn is how to 'clean up the data.' If you are interested in observing the general trend of what you are researching, then outliers mess up your findings. That's why there exist countless formulas and statistics packages to help enterprising researchers eliminate these 'problems.' And to be clear, this is not cheating; these are statistically valid procedures – if, that is, one is interested only in the general trend. I am not.
The typical approach to understanding human behavior has always been to look for the average behavior or outcome. But in my view this misguided approach has created what I call the 'cult of the average' in the behavioral sciences. If someone asks a question such as "How fast can a child learn how to read in a classroom?" science changes that question to "How fast does the average child learn to read in the classroom?" We then ignore the children who read faster or slower, and tailor the classroom toward the 'average' child. That's the first mistake traditional psychology makes.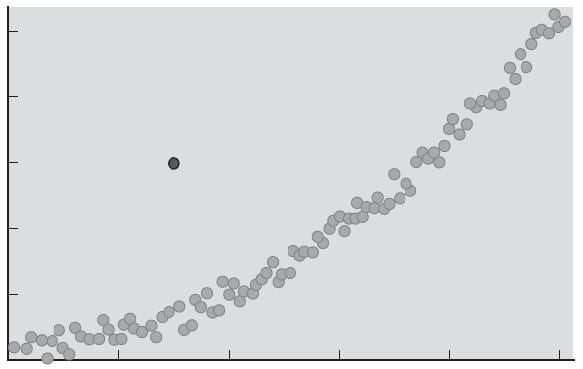 Figure 1: The Cult of the Average
If we study merely what is average, we will remain merely average.
Conventional psychology consciously ignores outliers because they don't fit the pattern. I've sought to do the opposite: Instead of deleting these outliers, I want to learn from them.[/wcm_restrict][wcm_nonmember]
---
Hi there! This article is available for free. Login or register as a StrategyDriven Personal Business Advisor Self-Guided Client by:
Subscribing to the Self Guided Program - It's Free!
[/wcm_nonmember]
---
About the Author

Shawn Achor, author of The Happiness Advantage: The Seven Principles of Positive Psychology That Fuel Success and Performance at Work
, spent over a decade at Harvard University where he won numerous distinguished teaching awards for his work. He graduated magna cum laude from Harvard and earned a Masters from Harvard Divinity School in Christian and Buddhist ethics. In 2006, he was Head Teaching Fellow for 'Positive Psychology,' the most popular course at Harvard at the time. In 2007, Shawn founded Good Think Inc. to share his research with a wider population. When the global economy collapsed in 2008, Shawn was immediately called in as an expert by the world's largest banks to help restart forward progress. Subsequently, Shawn has spoken in 45 countries to a wide variety of audiences: bankers on Wall Street, students in Dubai, CEOs in Zimbabwe. Shawn's research on happiness and human potential have received attention from the Harvard Business Review, New York Times, Forbes, CNN, and NPR. To read Shawn Anchor's full biography, click here.
Related content from StrategyDriven
https://www.strategydriven.com/wp-content/uploads/SDELogo5-300x70-300x70.png
0
0
StrategyDriven
https://www.strategydriven.com/wp-content/uploads/SDELogo5-300x70-300x70.png
StrategyDriven
2011-09-05 11:43:45
2016-01-31 21:00:13
The Happiness Advantage: Escaping the Cult of the Average