Recommended Resource – The Reinventors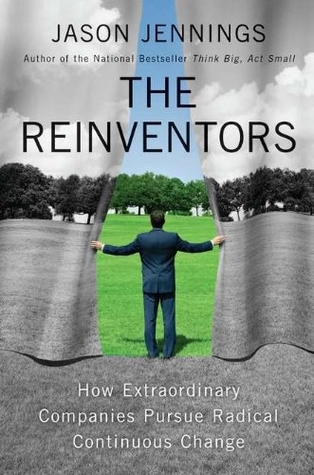 The Reinventors: How Extraordinary Companies Pursue Radical Continuous Change
by Jason Jennings
About the Book
The Reinventors
by Jason Jennings provides a step-by-step method for continuously evolving one's organization such that it remains ever relevant in today's rapidly changing business environment. Jason examines not only the change methodology to be employed but provides insights to the key leadership and organizational attributes necessary to effectively reinvent a business. He supports his assertions with detailed examples of how well-known organizations achieved the continuous change driving their ongoing marketplace success.
Benefits of Using This Book
StrategyDriven Contributors particularly like The Reinventors for the soundness of its immediately actionable continuous change methodologies. Jason thoroughly examines all aspects of successful change management; leadership, organization/people, and action. Furthermore, his 'Action Plans' at the conclusion of each chapter help the reader focus on the important change principles and can be used to guide action plan development.
Underlying each of Jason's continuous change principles is a focus on organizational alignment and accountability, the hallmark principles on which StrategyDriven is focused. Vivid, real-world examples serve to bring the principles conveyed to life; making them easy to relate to and helping the reader envision how he or she might take action to reinvent their organization.
The Reinventors's immediately implementable, real-world change methods that reinforce organizational alignment and accountability makes it a StrategyDriven recommended read.
Related content from StrategyDriven
https://www.strategydriven.com/wp-content/uploads/SDELogo5-300x70-300x70.png
0
0
StrategyDriven
https://www.strategydriven.com/wp-content/uploads/SDELogo5-300x70-300x70.png
StrategyDriven
2012-11-15 06:11:10
2012-11-05 01:40:51
Recommended Resource – The Reinventors