Business Performance Assessment Program – Yellow Sticky Analysis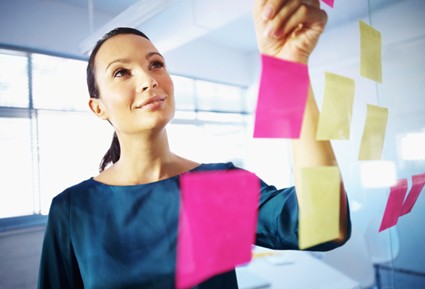 Business performance assessments represent a second tier aggregation of organizational data, benchmarking references, and industry experience. As such, assessment team members are challenged to combine the often disparate data they collect in a way that allows them to draw meaningful conclusions upon which the organization can act to improve performance.[wcm_restrict plans="47733, 25542, 25653″]
Not all organizations possess the financial, technological, and personal resources required to effectively employ complex analytical tools but all should have access to the wonderful product known as the yellow sticky. Using a yellow sticky analysis technique, assessment team members can aggregate data in high level categorical groupings that foster more the detailed analysis necessary to draw meaningful, actionable conclusions.
Performing a Yellow Sticky Analysis
Yellow sticky analysis organizes business performance assessment collected data into high level functional and cross-functional categorical groupings that enable team members to readily identify patterns among what previously seemed to be unrelated data points in order to derive meaningful performance improvement conclusions. This method of data analysis is performed in the following manner:
Step 1: Document factual observations gleaned from the analysis of numeric data, activity observations, personal interviews, and individual surveys
Step 2: Transpose factual observations onto individual yellow sticky notes
Step 3: Based on the subject of the assessment, identify the functional performance areas which the final report will address. For example, if supply chain performance is being evaluated, functional areas may include procurement, inventory management, warehousing, returns, and warranties
Step 4: Label individual pieces of easel paper with the functional performance areas identified
Step 5: Assign each yellow sticky note to the functional area to which it is most related. Depending on the number of yellow sticky notes associated with each grouping, further subdivide these areas into subtopics. For example, inventory management may be further subdivided into safety stock, cycle stock, in-transits, reorder points, category management, segmentation rules, etcetera
Step 6: Further divide the yellow sticky notes associated with each functional and sub-functional area into groups related to people, process, and technology
Step 7: Analyze each yellow sticky note grouping (functional area in whole and people, process, and technology grouping within each functional area) for common performance trends
Step 8: Develop a beneficial practice or shortfall statement (as applicable) associated with each identified functional/sub-functional performance trend
Step 9: Review the people, process, and technology findings across each functional/sub-functional area to identify cross-functional performance trends broadly applicable to the organization
Step 10: Develop a beneficial practice or shortfall statement (as applicable) associated with each identified cross-functional performance trend
Note that one fact may be associated with multiple functional and/or sub-functional areas. In these instances, create duplicate yellow sticky notes for this fact and apply them to all of the appropriate functional and/or sub-functional areas. Once the yellow sticky analysis is completed, associate facts duplicated in this manner with the one beneficial practice/shortfall it most supports. Using each fact only once within the final report prevents the perception of undue use of any single item.
Final Thought…
In our experience, conclusions reached through a yellow sticky analysis are the most robust when all members of the self assessment team participate in the exercise. This includes involvement by the members of the organization being assessed so to ensure the incorporation of local context. (See StrategyDriven Self Assessment best practice article, Seek Local Participation for Context)[/wcm_restrict][wcm_nonmember plans="47733, 25542, 25653″]
---
Hi there! Gain access to this article with a StrategyDriven Insights Library – Total Access subscription or buy access to the article itself.
Subscribe to the StrategyDriven Insights Library

Sign-up now for your StrategyDriven Insights Library – Total Access subscription for as low as $15 / month (paid annually).

Not sure? Click here to learn more.

Buy the Article

Don't need a subscription? Buy access to Business Performance Assessment Program – Yellow Sticky Analysis for just $2!
[/wcm_nonmember]
---
About the Author

Nathan Ives is a StrategyDriven Principal and Host of the StrategyDriven Podcast. For over twenty years, he has served as trusted advisor to executives and managers at dozens of Fortune 500 and smaller companies in the areas of management effectiveness, organizational development, and process improvement. To read Nathan's complete biography, click here.
Related content from StrategyDriven
https://www.strategydriven.com/wp-content/uploads/YellowSticky.jpg
289
425
Nathan Ives
https://www.strategydriven.com/wp-content/uploads/SDELogo5-300x70-300x70.png
Nathan Ives
2014-07-01 06:00:34
2018-12-16 16:16:43
Business Performance Assessment Program – Yellow Sticky Analysis