Get Better Results by Looking at Your Team Differently
Why do you pay your team members? If you asked them, they might answer "You pay us to work." If you ask an office-based worker what 'work' means to them, you'll get a list of typical workday activities. They read and write emails. They write reports. They go to meetings and attend conference calls. Those activities that sound appropriate enough, but they don't give a complete picture of what 'work' means to you.
There are two different definitions of 'work' in the dictionary. Your team members likely subscribe to the one that defines 'work' as "mental or physical activity as a means of earning income; employment." Given you're responsible for your team achieving its goals, you probably lean toward the other one which defines "work" as "activity involving mental or physical effort done in order to achieve a purpose or result."
The two definitions are similar in that they revolve around physical or mental activity but they differ significantly on the purpose of the work. The implication here is you must hold your team members accountable for the results they achieve – not the activities they perform. That accountability contributes to the collective results your team delivers. Activities your team members think of as "work" are the inputs that go into getting the real outcome you desire – results that lead you to achieve your goals.
You need to evaluate the amount of output you get from a team member (the results of their work) and compare that to the amount of time and energy you have to invest in them to get it. We call that second piece 'leadership capital.' The result of those comparisons is the Leadership Matrix (or 'the box' for short). Within that matrix, we define behavioral archetypes from Slackers to Rising Stars and everything in between. The real insight lies in practical advice on how to lead those folks to improve their performance. To assess that performance, you need a deep understanding of the output generated by your team members. Those are the outcomes to assess when placing team members on the Leadership Matrix.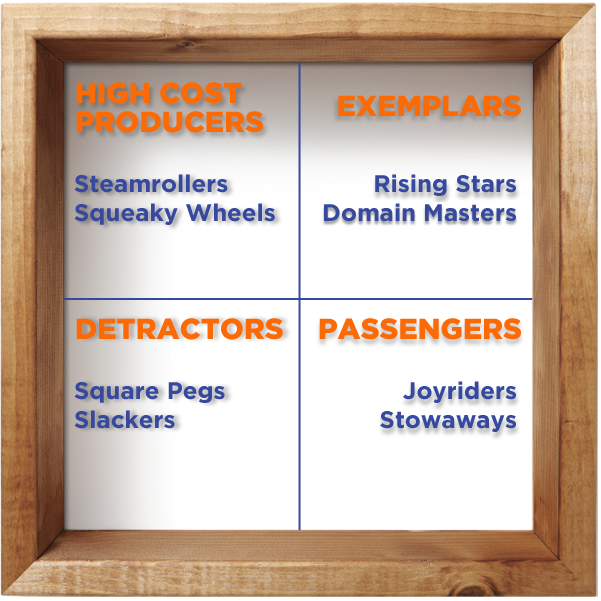 Assessing the Output of Your Team Members
The output question leaders need to focus on is "are my team members producing the results I need given all the investments – pay, equipment, supplies, my time and energy – I'm making in them?" Assess each team member's output – results that contribute to your team goals. To conduct this assessment, you'll evaluate five elements of team member output:
[wcm_restrict]Quantity:
What is the quantity of results compared to what is expected or asked of them?
Quality:
How is the quality of their final work versus what is expected?
Timeliness:
How timely is the work they deliver versus expected deadlines or durations?
Intangibles:
To what degree do they improve morale in their immediate team?
To what extent do they improve relationships with stakeholders and colleagues outside their immediate team?
By understanding the results someone delivers at a level deeper than the easily measured numbers, you'll have a sense not only for what they're delivering but also how they're delivering it. That new look at the 'how' of their results will help you coach and develop them more effectively.
If you'd like to assess your team members and see where they plot on the Leadership Matrix, take our simple assessment. It will give you a sense for not only the results you get from them but what your investment of time and energy is as their leader. That combined picture will give you a much clearer approach to getting the best out of the members of your team.[/wcm_restrict][wcm_nonmember]
---
Hi there! This article is available for free. Login or register as a StrategyDriven Personal Business Advisor Self-Guided Client by:
Subscribing to the Self Guided Program - It's Free!
[/wcm_nonmember]
---
About the Author

Mike Figliuolo is the co-author of Lead Inside the Box: How Smart Leaders Guide Their Teams to Exceptional Results
and the author of One Piece of Paper: The Simple Approach to Powerful, Personal Leadership. He's the managing director of thoughtLEADERS, LLC – a leadership development training firm. An Honor Graduate from West Point, he served in the U.S. Army as a combat arms officer. Before founding his own company, he was an assistant professor at Duke University, a consultant at McKinsey & Co., and an executive at Capital One and Scotts Miracle-Gro. He regularly writes about leadership on the thoughtLEADERS Blog.
Related content from StrategyDriven
https://www.strategydriven.com/wp-content/uploads/SDELogo5-300x70-300x70.png
0
0
Nathan Ives
https://www.strategydriven.com/wp-content/uploads/SDELogo5-300x70-300x70.png
Nathan Ives
2015-07-23 06:00:48
2016-01-30 21:12:41
Get Better Results by Looking at Your Team Differently