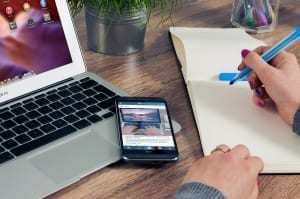 Working from home can be an absolute joy. However, it definitely puts a lot of responsibility on your shoulders. If you want to be productive when working at home, you need to create a home office environment that facilitates productivity. Fortunately, this is something that anyone can do, if you know what you're doing.
Here are some basic but essential tips for creating a home office environment that will make it easy for you to maintain your productivity.
A Comfy Chair
This is definitely important if you are going to be spending a lot of time in your home office each day. An uncomfortable chair isn't just unpleasant to sit on for long periods of time, it can be damaging to your health. You need a chair that can offer you adequate support for your back and legs, otherwise you will experience pain and other physical problems before long.
Good Lighting
If you are spending all day sat in a darkened room, squinting to try and see what you're doing, you will soon feel the effects. While straining to see what's around you in the dark won't cause permanent damage, it will make you feel needlessly tired. You should ensure that your home office has plenty of light, preferably natural light. If natural light isn't available, look for fixtures that produce light that is as similar to daylight as possible.
Computer Accessories
Of course, the centerpiece of any home office setup is going to be the computer you use to work on. Whether this is a laptop or a desktop, Windows or Mac, you will want to make sure that you have everything you need to use it efficiently and comfortably. This might mean plugging a mouse into your laptop, rather than relying on the trackpad, or adding a stand for your laptop so that it can be at a comfortable viewing angle when you're sat at your desk. You can find quality Mac accessories at thegadgetflow.com, click this link to check it out!
Add Some Plants
Even if you are working from home, it is worth spending some time to create a pleasant environment to work in. Your surroundings in your home office will determine how you feel after you spend long periods of time alone in there. Adding some plants to your surroundings is an inexpensive way of adding some color and life to your home office setup.
Buy Some Desk Accessories
Finally, when you work from home, it's important to remember to have fun. It's too easy for a work from home job to end up consuming your entire life if you aren't careful. Add some fun desk accessories to your setup to make your home workspace more inviting. Desk accessories can either be practical or they can be there just for fun. Remember, this is your home office, so it needs to feel like home to you.
With a little bit of love and care, your home office can become the perfect environment for you to work in. Improving your home office doesn't have to be difficult or expensive; a few simple touches can make a world of difference.
FREE related content from StrategyDriven
https://www.strategydriven.com/wp-content/uploads/office-620817_1280.jpg
850
1280
StrategyDriven
https://www.strategydriven.com/wp-content/uploads/SDELogo5-300x70-300x70.png
StrategyDriven
2019-05-13 17:00:42
2019-05-14 00:10:42
How to Create the Perfect Home Office