Ten steps to effective marketing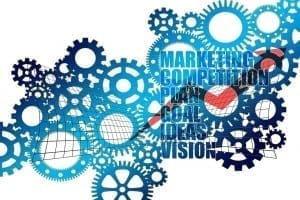 Traditional marketing is all about marketing materials which are usually the things and objects which promote your message or your brand to your target audience. Although the contemporary marketing is all about Instagram and Facebook marketing. However, we cannot stress enough on the importance of the brochures, flyers, business logos and banners, which have become digital in this highly digitalized world. The marketing materials have the power of making or breaking a brand; this is the reason why companies invest a significant amount of their money in making high-quality marketing materials.
Therefore custom marketing materials are utilized by various businesses and organizations to deliver their brand message to their customers along with improving their brand image. They not only provide you with various options for improving brand image but also provide options for growing and expanding your businesses through various cost-effective ways through printing and advertising services.
There are various innovative and creative ways, which have been developed in the current era of online and digital marketing. Some of the most utilized ones are as follows;
1.Giving high-value purchase options
Customers of today have become smarter and more knowledgeable because of hundreds of options available in the market. As they have a plethora of options, they prefer their value of money; therefore, they try to find options where they can get high-value products at affordable prices. There are various brands which provide discount coupons or sale option for their customers in order to attract their customer's attraction towards their products and business. A lot of brands provide 50-70% sale options on their products as well as provide buy-one-get-one offers to allure their customers so that they can get their value of money through every purchase, and the businesses can increase their profits through increased sales because of these discount offers and promotional campaigns.
2. PR and Collaboration through influencers
There is no strategy that has been as effective as the endorsements or relativity of a brand to the customers in a more subtle and simplistic way. Various brands utilize these strategies to promote their brands through various influencers and digital content creators, such as bloggers and other public celebrities, through which people can relate in a better way. This is the reason why most of the larger companies and existing big brands are approaching influencers and bloggers to review their products or services and successfully spread their brand message to their thousands of followers.
3. The magic of printing materials
The printing materials are understood as the most effective ways of marketing and advertising your business, or to recreate your new message. There are endless options through printing marketing materials which are available such as attractive poster printing designs to corporate flyers, business cards, banners, postcards, note pads, and custom posters, etc. they have the significant impact on growing sales and marketing for your business along with giving a professional look to your business through marketing solutions.
4. Recognizing the power of USP
The current wave of marketing is all about identifying and recognizing the unique selling proposition (USP) of your brand. The USP is the distinct and unique reason through which a company markets its innovative product in a wide competitive world of marketing. The USP provides essential knowledge about the exceptional and unique services which will be available with your product. The USP can be developed by recognizing the essential traits of your products or services and understanding the unique properties that your brand has to provide to your customers.
5. The Value of Promotional events
There are hundreds of brands nowadays which are utilizing various innovative and creative ways to promote their products for which they utilize a number of options. The current era is all about promoting your brands in the most effective manner. Keeping in view, the significance of increased exposure of products, various companies, and bigger brands introduce significant promotional events for the promotions of their new products or for recreating promotion of their existing products. These promotional events have the power of boosting the customer exposure and advertisement of your product to larger masses and to achieve large viewership.
6. Providing a high customer experience
Marketing has become crucial these days because of the current wave of advertising which emphasizes overbuilding brand loyalty and customer satisfaction, which focuses on providing a high-quality experience to the customer with every purchase they make. Various bigger and international brands strive to provide their customers with such experience through using various customer marketing materials for their advertising campaigns.
7. Things that are printed with the company brand or logo
There are several t-shirts, logos, key-chains or daily useable things that are printed with the company brand or logo and provided to their customers to have long term value and loyalty with the brand. These techniques are significant for building your brand image and an increase in customer satisfaction.
8. Custom-made and tailored materials
The marketing materials are utilized as modern-day sales representatives communicate your brand message effectively to the customers. Therefore they are understood as conversion materials that have the power of conversion of your customers into loyal customers and making their relation to the brand.
9. Information required to reach customers
While creating flyers, postcards, and menus, the information which is required by the customers to reach your brand is essential for the conversion of your customer. This is the reason why custom made and tailored products are famous nowadays, which include customer information and their names on the product, which are also an effective way to make relativity with the customers.
10. Digital marketing options
There are a number of marketing options in the current era because of digital marketing. Although there is still a lot of significance of billboards, television and print marketing, however through improved digital marketing options, there are a variety of ways through which the brands can improve their sales in a more cost-effective way. Google Ads, Facebook and Instagram marketing is the most popular form of marketing nowadays. These channels are utilized by various companies in order to attract their customers.
Conclusion
Therefore it can be concluded that the custom marketing materials have the amazing power of building a significant brand image and improving the image of your existing brands. This is the reason why companies invest a significant amount of their money in making high-quality marketing materials along with approaching various innovative and creative ways to market and advertise their products to their valuable customers. Custom marketing materials, such as flyers, postcards, banners, and logos have a significant impact on growing sales and marketing for your business along with giving a professional look to your business through communicating your brand image to your customers.
Related content from StrategyDriven
https://www.strategydriven.com/wp-content/uploads/gears-2054841_1280.jpg
853
1280
StrategyDriven
https://www.strategydriven.com/wp-content/uploads/SDELogo5-300x70-300x70.png
StrategyDriven
2020-02-11 07:00:41
2020-02-10 14:07:56
Ten steps to effective marketing