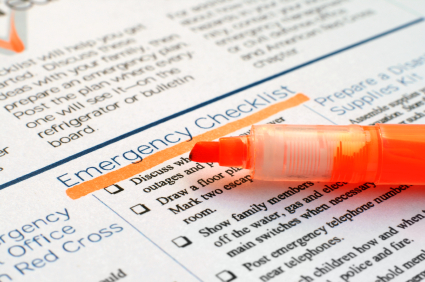 Individuals within organizations of all types frequently perform repetitive tasks demanding high levels of consistency and/or quality. In these circumstances, logically sequenced lists of activities serve to drive the desired consistency and quality without themselves being overly burdensome or time consuming.[wcm_restrict plans="41208, 25542, 25653″]
Common Checklist Applications
Checklists enjoy a wide variety of application, from day-to-day routines to seldom performed and emergency operations. In each case, the checklist serves as a user aid to help ensure steps are performed in the desired sequence and that no step is skipped. When more elaborate direction is needed, the checklist refers to the applicable procedure(s). In other instances, the checklist is a series of simple one-step tasks that qualified individuals should be able to perform. Common applications of checklists include:
Shiftwork turnover
Application quick reference cards
Customer interface and sales call preparation guides
Workplace, meeting, and event setup and dismantle guides
Executive, manager, and supervisor positional relief turnovers
Normal, abnormal, and emergency procedure subpart users guides (for example: plant/system startup, alarm response, and normal and emergency shutdown checklists)
Characteristics of High Quality Checklists
High quality checklists are human factored in the same manner as procedures:
Begins with a title distinctive to its use
Contains a short one to two sentence description of when and for what purpose the checklist should be used
Lists each activity on an individual line and provides placekeeping marks next to each listed activity
Those required to be filed for quality assurance records are printed on durable paper that can be written on in indelible ink
Those not required to be retained can be laminated to allow reuse; facilitating placekeeping by grease or other erasable marker
Checklist Maintenance and Storage
Checklists themselves should be maintained and revised in accordance with the organization's procedure writers guidelines. As such, the current revision of the checklist is either tracked independently or in combination with its associated work instruction, operating standard, or procedure. Frequently used checklists should be stored electronically or in hardcopy such that they are readily available at the point of use. Like procedures, when checklists are updated all outstanding copies of the previous revision should be collected, destroyed, and replaced with the approved update. Employees should verify they are using the most recent revision of a checklist prior to performing its steps.
A few important notes regarding checklists…
Checklists should not be deployed in place of formal procedures.
Checklists supporting normal operations commonly serve as guides coordinating the use of several procedures during an evolution's performance. Highly technical operations involving the establishment of initial operating conditions, precautions and limitations, cautionary warnings and notes, and/or other complex instructions should be governed by formal procedures.
Checklists associated with abnormal and emergency response activities typically support follow-up verification of immediate and important follow-on actions required to be performed from memory by qualified operators. Other actions should be procedurally driven.[/wcm_restrict][wcm_nonmember plans="41208, 25542, 25653″]
---
Hi there! Gain access to this article with a StrategyDriven Insights Library – Total Access subscription or buy access to the article itself.
Subscribe to the StrategyDriven Insights Library

Sign-up now for your StrategyDriven Insights Library – Total Access subscription for as low as $15 / month (paid annually).

Not sure? Click here to learn more.

Buy the Article

Don't need a subscription? Buy access to Human Performance Management Best Practice 7 – Checklists for just $2!
[/wcm_nonmember]
https://www.strategydriven.com/wp-content/uploads/HPMChecklist.jpg
282
425
StrategyDriven
https://www.strategydriven.com/wp-content/uploads/SDELogo5-300x70-300x70.png
StrategyDriven
2012-10-09 06:07:25
2018-10-13 22:33:09
Human Performance Management Best Practice 7 – Checklists