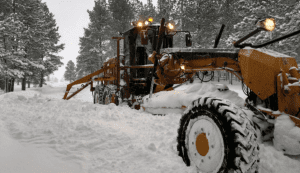 Coconino County has enhanced its Public Works fleet operations by focusing on employee development and establishing new business practices. Located in northern Arizona with its seat in the City of Flagstaff, Coconino County is the second-largest county by land area in the United States, requiring a varied and extensive fleet. In the last five years, Public Works leadership have taken many actions to build a sustainable future.
Background
The Fleet Services Division of the Public Works Department comprises two business units – Heavy Equipment Services and Mechanical Services. In addition to 18 employees operating three shops in two locations, the Division also manages two fueling sites and a Parts and Inventory Room. The Division provides essential infrastructure support and services to more than 420 light-fleet and highway equipment across County departments, ranging from the County Sheriff's patrol and search and rescue vehicles to Public Works' Road Maintenance vehicles.
The County maintains more than a typical municipal fleet. Fleet Services are also responsible for approximately 100 pieces of highway equipment to manage the heavy snowfall. Flagstaff, Arizona receives an average of 100 inches of snow in a year. Additionally, the County maintains over 600 miles of unpaved rural roadways, including some in the Navajo Nation.
Paradoxically, the County's approach to improve operations in the Fleet Services Division has focused on developing employees and improving work processes.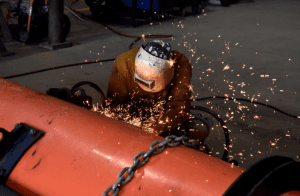 Staffing Challenges and Planned Actions
At Coconino County Public Works, people come first. Mechanics are a vital part of the team; their role in maintaining equipment and vehicles across such a large geographic area is essential. Yet, as a rural county with a high cost of housing, attracting experienced and qualified staff can be difficult. The continuous challenges of recruitment, onboarding, and retaining mechanics led the Public Works leadership to reevaluate their approach to staffing. These challenges created the perfect opportunity to re-envision the careers of Coconino County mechanics.
The shortage of qualified mechanics is "old news" in the industry; the number of new mechanics has been steadily decreasing nationwide. As a trade, mechanics require a long lead time and many labor hours to gain skills and experience, especially with the technology and alternative fuels of complex and heavy equipment continuously changing. The reduction of farming and large-scale mining operations in the northern Arizona region appears to be partly responsible for the diminishing interest and opportunities for young adults to develop mechanical trades skills.
The decline of young adults entering the workforce as mechanics and other trades contributes to an organization's ability to meet its improvement goals and provide public services. The inability to hire and recruit new employees has impacted maintenance service levels and can be detrimental. A lack of available mechanics means fewer labor hours devoted to important activities. Leadership is often faced with either cutting specific tasks or reducing labor and functions across the board. Deferring maintenance tasks can have significant, long-lasting impacts on workload, cost, structural integrity, and even response to emergencies of snow operations, floods, or fires.
Similarly, employee departures and heavy reliance on too few employees over long periods can be detrimental to the long-term performance of the organization and can lead to a reduction in efficiency, loss of vital industry and institutional knowledge, low employee morale, and reduced service delivery during periods of transition. Moreover, such challenges lead to increased costs of recruitment, onboarding, and training of new staff. Given the sheer size of the County, the bottom-line is that maintaining essential service operations requires coverage and vehicles being operational to meet public needs of access, security, and health services. The County's effort to address these issues has focused on several priorities.
Reimagining the Organization – Investing in People
To slow and reverse these damaging, often cyclical impacts, Public Works began to reimagine and reconfigure the organization from workflow to employee roles. This started with an independent review of the operations, leading to new findings that outlined opportunities for improvement. The Fleet Services Division has now evaluated employee and management input and has executed several improvements. This includes enhancements in services, reliability, and improving quality of customer service by strategically investing in its workforce and new technologies over the last five years. The County's investment in its people, mainly its mechanics, has also been crucial in onboarding and retaining new employees.
The process started by reevaluating the role of mechanics. With input from various stakeholders the division developed career ladders for those employed in Mechanical Services and Heavy Equipment Shops. Previously, the County had one mechanic job classification; each group is now divided into several job class categories. This strategy increased the Division's ability to attract candidates from a wider spectrum of experience and skill set, creating additional opportunities for career growth. As a result, County leadership can develop and mentor new mechanics through trainee and apprentice roles and has created new entry-level positions requiring limited experience for those who desire to join the trade.
Incentivizing Professional Achievement
Incentivizing professional achievement is another effort focused on providing mechanics, and other employee classes, the opportunity to grow professionally. Professional development opportunities ensure that the job stays exciting and rewarding. Opportunities for advancement into higher leadership roles and access to benefits (proportionate to the experience and responsibilities) are necessary to keep employees developed and sustained.
The County established a tier-based system for mechanics to advance within the organization. Coconino County rewards its experienced and professional mechanics. The Division's leadership team decided to incentivize professional achievement through well-established and respected Automotive Service Excellence (ASE) benchmarks with financial adjustments.
"When I came to the County, I let my Automotive Service Excellence Certification (ASE) lapse. There was no incentive or recognition of that achievement." says Gilbert Riviera, a 15-year lead mechanic. The story at the County looks very different today. The County's fully-fledged mechanics now have several ASE certifications covering all types of maintenance and repairs in the shops. These credentials are not just part of the mechanics' compensation but also a point of pride for this skilled trade and a benefit to the organization. Coconino County Fleet Services is in the process of obtaining a Blue Seal Certification for both shops, making it the first County fleet organization in Arizona to reach this milestone.
The County has developed a training program to meet individual needs, including an annual training plan for each employee to learn the latest technical aspects of fleet and related technology. The County also established a position that focuses on providing training and development for employees. Ken VonShultze, who spearheads the mechanic training and safety program, proudly shares that "ASE Blue Seal of Excellence Program is the highest designation by the National Institute of Automotive Service Excellence recognizing commitment to customer service and skills for our mechanics. That is the quality of service we strive for in Coconino County."
The Covid-19 pandemic provided an opportunity for several mechanics to increase training hours and complete ASE tests due to the plateau in fleet usage. A minimum of 75 percent of the mechanics must be ASE certified, covering all types of ASE Certifications for a Blue Seal designation. Financial incentives are available for obtaining a Commercial Driver License (CDL) for both maintenance services and ASE certifications.
Supportive Work Culture
A third effort equally important is enhancing work culture. Continuous improvement has become synonymous with fleet operations at Coconino County. The focus on creating a thriving culture centered on mentorship, inclusion, and safety is paying off as Coconino County Fleet Services enters a new chapter.
After 37 years of service, Coconino County Public Work's Fleet Manager retired from a long and successful tenure. A departure of this magnitude leads to some disruption in the workflow. Still, it is also a testament to an extraordinary employee retention model. The work started will continue to propel the Public Works and its Fleet Services organization for many years to come.
A Way Forward: County Operations and Support Efforts
Senior County leadership understands the need for continuous organizational improvements to withstand and thrive during organizational changes. Ample advancement opportunities allow the County to retain existing employees, while reducing entry requirements based on experience and providing on-the-job training has attracted new employees. Further, providing incentives for a new generation of mechanics to join the workforce can help ensure each position's succession.
Establishing a tiered system with rewards for education and learning encourages mechanics to stay and grow with the County.
A dynamic organization with a flexible career ladder and supportive management is necessary to fill and retain key mechanic positions and adapt to disruptive changes. Although challenges continue to surface, efforts are underway to ensure both trainees and existing skilled employees remain with Fleet Services as a mechanic or in a supervisory role. Public Works employees are essential for ensuring the County provides year-round public services for access, safety, and the health of Coconino County residents and the millions of visitors to Northern Arizona annually.
---
About the Authors

Eslir Musta, MPA, is Deputy Director of Public Works for Coconino County, Arizona.
Harry Lorick, PE, PWLF, PTOE, is Principal at LA Consulting, Inc. as well as Leadership and Management Committee Member and VP of APWA's SoCal Chapter.
https://www.strategydriven.com/wp-content/uploads/digger.png
691
1200
Sharon Kastoriano
https://www.strategydriven.com/wp-content/uploads/SDELogo5-300x70-300x70.png
Sharon Kastoriano
2021-06-13 12:00:33
2021-06-13 11:42:11
Creating a Successful Fleet Operation Means Investing in Employees