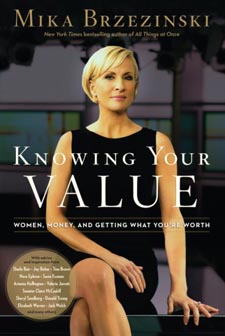 Knowing Your Value Women, Money, and Getting What You're Worth
by Mika Brzezinski
About the Reference
Knowing Your Value by Mika Brzezinski is a self confession and personal growth story about how a now prominent MSNBC morning show host discovered, demanded, and won compensation more inline with that of her peers. The story is complimented by the personal value stories and insights of over a dozen other leaders.
Why You Should Not Buy This Book
StrategyDriven Contributors dislike Knowing Your Value for several reasons. First, the book lacks sufficient method for actually determining your personal worth to an organization. Its premise is that an individual's value contribution should be based on the compensation of others in similar positions. The shortfall with this argument is that each unique individual contributes differently to the organization and so offers his/her own value proposition. Additionally, there is an underlying assumption that the comparison employees have accurately identified and won their value – a premise that is often not true. Second, the book maintains a foundational assumption that the author was treated differently because she is a woman. While this may or may not be true, the comparison employees identified were noted as contributing significantly greater intellectual and creative works to their organization; suggesting that they were rightfully compensated more. Brzezinski discounts the fact that men, minorities, and other classes of people may also be undervalued, for the reasons she presents, and that everyone should methodically seek to identify and demand their value from employers.
For its shortfalls in revealing how to calculate one's personal value contribution and its faulted underlying logic and assumptions, StrategyDriven Contributors recommend that our readers not purchase or invest time reading Knowing Your Value.
Alternative Recommendation
StrategyDriven Contributors believe it is highly important for an individual to know his/her value and to aggressively seek it. Identifying one's worth is not a matter of simple comparison with others or a fight against perceived discrimination but rather a deliberate methodological evaluation of the value contribution of the individual to the organization followed by the positive assertion of that value to those who can correct any imbalance. Such a methodology is presented by Larry Myler, Chief Executive Officer of By Monday, in his book, Indispensable By Monday: Learn the Profit-Producing Behaviors that will Help Your Company and Yourself
.
Click here to read a review of Indispensable By Monday and listen to our StrategyDriven Podcast interview with Larry Myler on determining your organizational value.
https://www.strategydriven.com/wp-content/uploads/SDELogo5-300x70-300x70.png
0
0
StrategyDriven
https://www.strategydriven.com/wp-content/uploads/SDELogo5-300x70-300x70.png
StrategyDriven
2012-04-19 06:09:15
2016-05-11 14:45:56
Knowing Your Value