Strategic Analysis Best Practice 8 – Validate the Extremes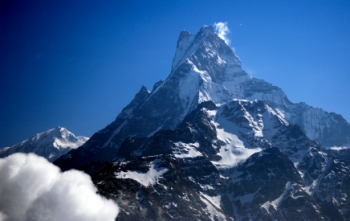 Performance studies of today's intricate, technology-driven organizations and the fast paced business environments in which they operate yield unprecedented amounts of data. Analysts often employ complex algorithms and visual models to synthesize and process this data into meaningful information organization leaders use to formulate their company's direction.[wcm_restrict plans="40685, 25542, 25653″]
Mathematical modeling, however, can sometimes provide analysts with misleading information. Because they seek to characterize performance while accounting for a broad range of unique circumstances, models and other forms of statistical analysis often assume a normal results distribution and subsequently rely on average values. This reliance on averages, in turn, may mute an impactful occurrence at the extreme of the performance range. Thus, it becomes important for analysts to validate performance extremes.
An Example:
Consider the following example. A customer survey is performed to assess the quality of a company's product. Twenty-five customers are asked to rate the product's quality during the first three months of ownership on a scale of 1 to 5, 1 being unacceptable and 5 being excellent. Figure 1, Survey Results Sample Data, graphically illustrates the feedback received.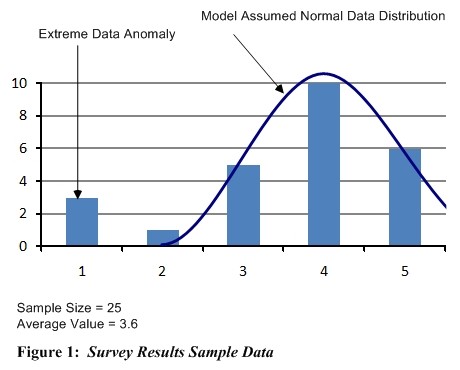 Because the product is considered to be a price-leader within its category, a minimum initial quality rating of 3.5 was desired. The actual quality rating received, reported as an average, was 3.6; satisfying this goal. However, examination of the extremes using a simple bar chart reveals that twenty percent of all survey participants gave the product a 1 or unacceptable rating. This significant number of low quality ratings warrants further investigation by analysts and, most likely, the attention of and corrective action by company leaders.
Final Thoughts…
Validating the extremes occurs not only at the edges of the data range, but also includes validation of background assumptions and unexpected results.
It is equally important to remember that validating the extremes is not limited to simply identifying conditions that warrant further investigation. Validating this data implies that analysts will probe deeper to identify why these anomalies exist so to provide leaders with the information they need to make actionable decisions; even if the decision is to take no action.
Validation of the extremes is also a best practice defense against the adage of "if it sounds too good to be true, it probably is." Regardless of the circumstances, analysts should review their model and statistic-driven findings for:
omissions and anomalies
unpredictable results as the end of data ranges
reasonableness and consistency with known realities
[/wcm_restrict][wcm_nonmember plans="40685, 25542, 25653″]
---
Hi there! Gain access to this article with a StrategyDriven Insights Library – Total Access subscription or buy access to the article itself.
Subscribe to the StrategyDriven Insights Library

Sign-up now for your StrategyDriven Insights Library – Total Access subscription for as low as $15 / month (paid annually).

Not sure? Click here to learn more.

Buy the Article

Don't need a subscription? Buy access to Strategic Analysis Best Practice 8 – Validate the Extremes for just $2!
[/wcm_nonmember]
Related content from StrategyDriven
https://www.strategydriven.com/wp-content/uploads/Mountain.jpg
221
350
StrategyDriven
https://www.strategydriven.com/wp-content/uploads/SDELogo5-300x70-300x70.png
StrategyDriven
2008-06-05 19:33:44
2018-09-16 16:12:03
Strategic Analysis Best Practice 8 – Validate the Extremes