Strategic Planning Best Practice 14 – Never Be Satisfied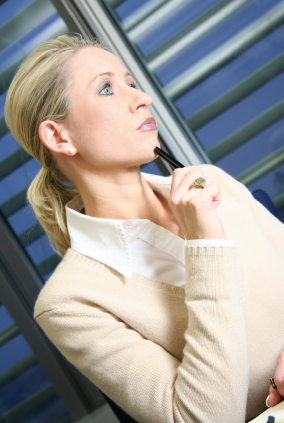 Profits are up, costs are down, the market is yours. Time to sit back and enjoy life, right? Wrong!
From Kmart to Walmart, Compaq to Dell, history is replete with examples of organizations that had once dominated a market segment only to become insignificant or non-existent. Today's fast moving, highly competitive marketplace demands a relentless pursuit of organizational improvement. What is low cost and efficient today is likely to become expensive and unwieldy tomorrow given the rapid pace of technological advances, process innovation, and the entry of tenacious entrepreneurs into the marketplace from around the globe. For organization leaders, this means never being satisfied with the status quo and always seeking to identify ways to improve the organization's performance.
How Hungry Should an Organization Be?
Executives and managers frequently ask: How high should we set our goals?[wcm_restrict plans="40599, 25542, 25653″]
During development of a strategic plan, it is important to highlight the basis against which the organization's performance will be judged. Using simple benchmarks from other organizations or general market performance trends is too simplistic to provide the needed performance target over time for an organization striving for continuous improvement. While we believe benchmarking is an important part of any evaluation program, strategic planners must recognize and compensated for its limitations. A benchmark represents the current performance of an organization. The emphasis being on 'current'. In all likelihood, the organization being benchmarked is itself seeking to improve the processes being observed. Therefore, simple emulation of a benchmark will typically leave an organization one step behind the competition. When benchmarking, it is important to project the benchmark's results-based performance into the future in order to depict the performance level needed to meet or exceed that of the benchmarked organization once changes are implemented.
Strategic planners should develop performance forecasts for key competitors and benchmark partners against which to establish aggressive but reasonable goals for their organizations. To do this, they analyze top performer data over time to establish a rate of change in the performance of key value driver and results. Combining this trend data with contemporary best practice benchmark results and enhanced with the application of marketplace knowledge and experience (game changer factors), planners identify optimistic, most likely, and conservative performance trend references. (See Figure 1: Using Performance Trends to Identify Organizational Goals below) Then, using these trends as a reference, executives and managers set their organization's time-based performance goals. These goals, in turn, reveal the magnitude of results-based improvement initiatives need to produce in order for the organization to be successful.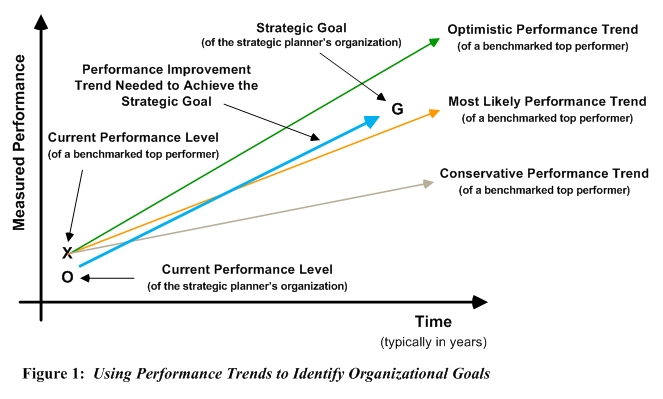 [/wcm_restrict][wcm_nonmember plans="40599, 25542, 25653″]
---
Hi there! Gain access to this article with a StrategyDriven Insights Library – Total Access subscription or buy access to the article itself.
Subscribe to the StrategyDriven Insights Library

Sign-up now for your StrategyDriven Insights Library – Total Access subscription for as low as $15 / month (paid annually).

Not sure? Click here to learn more.

Buy the Article

Don't need a subscription? Buy access to Strategic Planning Best Practice 14 – Never Be Satisfied for just $2!
[/wcm_nonmember]
Related content from StrategyDriven
https://www.strategydriven.com/wp-content/uploads/Reconsider.jpg
423
284
StrategyDriven
https://www.strategydriven.com/wp-content/uploads/SDELogo5-300x70-300x70.png
StrategyDriven
2009-03-05 03:27:42
2020-03-18 21:34:48
Strategic Planning Best Practice 14 – Never Be Satisfied