4 Types of Insurance for Cannabis Companies: Do You Know the Hidden Traps of the Industry?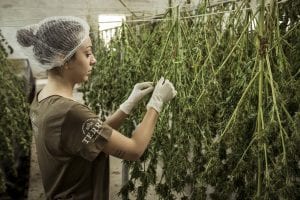 The marijuana industry is coming of age. Recreational use is legal in 12 states, while some medicinal form of cannabis is legal in 33 states plus the District of Columbia. From growing the plants to packaging the final product, there are many steps along the way where things can go wrong. Every business owner needs an emergency plan. An excellent way to start is by having the right types of insurance for their company. And a marijuana entrepreneur is no exception. There are four types of insurance necessary to protect the hefty investment in cannabis operations when problems crop up. These are product liability, general liability, crop, and cyber insurance.
How Easy Is It To Find Marijuana Insurance?
Not all insurance companies sell policies to marijuana dispensaries, retail stores, and landlords who house marijuana-related businesses or grow operations. Many insurance for cannabis companies find it too risky since marijuana remains illegal at the federal level. Coverage limits are often low since reinsurers are challenging to find. Carriers typically prefer to work with agencies well-schooled in the laws and operations used within the rapidly growing cannabis businesses.
However, the industry is rapidly growing. With $8 billion in legal sales in 2017 and an estimated $42 billion in illegal sales that same year, insurance companies expect continued increases in the legal market as more states change their laws. The market demands coverage and more insurance companies interested in entering the market. To sum up, it is possible to find insurance policies, but the agency selling the insurance should be well-versed in the unique needs of marijuana businesses and ready to do a proper assessment.
Marijuana Product Liability Insurance
A business must make sure that the product they sell or manufacture is safe for consumers. Unfortunately, even in the best-run system, faulty merchandise may be sold. If a customer is injured by any of the products sold or dispensed, it may be held responsible for that injury. This type of insurance protects the business from potentially ruinous costs. It is particularly crucial if edible products are made onsite and sold. Food poisoning is a potential claim.
Remember that product liability insurance will not cover any work-related injuries suffered by employees involved in the sale or manufacture of goods. It's important to note that any labels affixed to marijuana or related products must list any warnings. Failing to appropriately label can lead to a claim if an injury happened because the information was not available. Keep in mind that most complaints are made against the manufacturer, but some target the retailer.
Marijuana General Liability Insurance
General liability insurance protects businesses in a variety of ways. If someone slipped and fell, that injury would be covered. Claims against small businesses are more common than many might expect. Most company's deal with at least one claim every ten years. While that may not seem like much, the average cost of a claim is $35,000. Without coverage, those dollars would have to be paid directly out of company funds. Claims also cover advertising and third-party damages. Legal fees are covered by this insurance, as is any settlement.
General liability insurance for a marijuana business is not much different from the standard policy issued to other companies. However, a knowledgeable broker should be consulted to ensure that no special types of liability can be assigned due to the nature of the business. Since it covers the operational end, it is vital that all safety standards be in place within the workplace. Workers must be trained in safety measures to stay in compliance. Since many growers add additional labor during harvest, these policies can often be expanded to cover their work time.
Marijuana Crop Insurance
Growers may find crop insurance tough to purchase. The crop insurance typically bought by farmers is subsidized by the federal government. Since cannabis remains illegal at the national level, this type of subsidy is not available to grow operations. It shields growers from plant loss due to weather events, such as floods, hail, or drought. Drops in crop yield or a sudden decrease in price may be protected with these policies. The cost of the insurance coverage for greenhouses will depend upon the volume grown and if the crop was planted in the open air or within a greenhouse.
Marijuana growers can cover their seeds, seedlings, and fully mature plants ready for harvest. It also includes the curing process, the time spent hanging to dry, and the product that is ready to ship. In many areas of the nation, fires have become severe. These fires have affected marijuana grow sites. It is especially important to carry crop insurance when growing in regions with massive wildfires.
Cyber Insurance
Cybercrime is on the rise all over the world, and businesses must protect their private information as well as protected information received from customers. Customers share their personal credit card information and may share their medical information at dispensaries. Cyber insurance for marijuana-based industries can be cumbersome to obtain since very few carriers offer cyber insurance policies. That's because the situation is so volatile when it comes to hackers that the risks have not yet been properly assessed.
Evaluating an individual business requires that essential questions be asked. Is it a cash-only business? If this is the case, customer credit card information will not be collected. Is medical information collected? Is sensitive employee data stored online? To get a better rate, a solid plan of protection such as a firewall to protect data stored on computers should be installed. If a business is hacked, the ensuing expenses will be covered by the policy.
The marijuana business has grown. There is no doubt about that. And its infrastructure is expensive. Without insurance, owners place themselves in a position of losing everything if an accident occurs or a freak of nature leaves them without any product. Having product liability, general liability, crop, and cyber insurance is a good starting point to fully protect growers, retailers, landlords, and dispensaries. In the past, insurance was not available. However, with marijuana industry growth, more and better coverage can be had.
Related content from StrategyDriven
https://www.strategydriven.com/wp-content/uploads/cannabis-4688511_1280-2.jpg
853
1280
StrategyDriven
https://www.strategydriven.com/wp-content/uploads/SDELogo5-300x70-300x70.png
StrategyDriven
2020-08-03 16:00:19
2021-02-13 00:14:52
4 Types of Insurance for Cannabis Companies: Do You Know the Hidden Traps of the Industry?