5 Effective Ways to Drive Website Traffic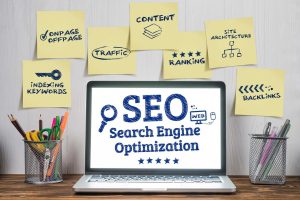 The COVID-19 pandemic has shifted the consumer landscape online more than ever before.
A digital strategy is a must for any business's marketing efforts. The main goal is to drive users to your website, learn about your brand and make a purchase—ultimately helping your business grow.
In this blog, we'll touch on the most important components you should add to your digital efforts!
Content
The very first thing you should do to expand your website's presence is to create content! This could be building out more pages, such as About Us, service pages, and most importantly, blog articles.
Hone in on your unique value proposition when you're writing. Think about the most common questions you get when potential customers are inquiring about your product or services. Write content directly addressing these concerns. You will be able to build trust by establishing yourself as a thought leader in your industry.
Your content should be educational and entertaining–all while offering value to your website visitors.
Try to position your brand offering as the solution to your consumers' pain points.
Don't forget to incorporate Call-To-Actions throughout your website and blogs–in moderation, of course! It could be a link to another helpful article on your site, download a handy eBook, or filling out a form to contact your sales team.
Note: While you create content for your website, combine it with SEO strategies for better results.
SEO
Search Engine Optimization (or SEO) is the continuous process of improving your website to rank well in search engines such as Google or Microsoft Bing. SEO will be the primary driver of organic traffic to your website.
It encompasses a lot of items, such as on-page and off-page SEO and technical SEO. We won't get in the nitty-gritty as there are countless articles online you can find on each of them, but here are some SEO strategies you should be working on to rank higher in search engines:
You should be optimizing for keywords. What are users typing into the search query, and how do you show up for them? Have a keyword strategy in place to enrich the relevancy of your content.
A determining factor of your ranking on search engines is the relevancy of your content. If someone expects a specific topic or answer to their search query and you don't deliver it to them? They're going to leave, resulting in a higher bounce rate, and Google will ding you for that.
Ensure your website is easy to navigate and has a fast loading time. People expect a seamless experience on your site, and there's no doubt they will leave if it's not up to par.
Set up an XML sitemap. It is a file that shows a list of the most important pages of your website. It helps search engines understand your website structure and can crawl all of your pages (which makes them rankable on search engines).
Work on getting backlinks: connect with trustworthy websites with higher domain authority and ask for a link back to your website. This will increase your domain rating as well, making you more likely to rank on search engines.
You can use tools for your SEO needs, such as SEMRush or Ahrefs. Both are robust, data-driven tools you can use to check the health of your website and how well its SEO performance is and pinpoint opportunities for improvement.
Paid Advertising
Digital advertising campaigns drive paid traffic to your website. If your website isn't ranking on search engine results or is has weaker SEO, paid advertising enables you to show up for your desired keywords.
The traffic you drive will be high-quality. This is because you will be able to control your ads:
You'll be able to design and customize the ad messaging
Decide which audiences you want to reach
What websites or channels your ad should be shown on
Where you want to direct the user to (Homepage? Specific product page? Dedicated landing page?)
By building a paid strategy with your business goals in mind, whether to increase brand awareness or drive conversions, you can effectively drive results that will grow your business.
What makes paid advertising effective but complex is, every business's strategy varies. That's why it's crucial to pinpoint which channels your target audience is at and serve your ads to them at the right place and time.
Some digital channels include:
Paid Search (Google, Bing, Yahoo etc.)
Display (across the internet, on millions of websites)
Social Media
Video (Youtube etc.)
Over-The-Top (video streaming platforms such as Roku)
Digital Out-Of-Home (digital billboards at high foot-traffic areas)
Mobile advertising (app stores, in-app etc.) and so much more
It takes trial and error and constant monitoring and adjustments to ensure your ad dollars are used to their full potential.
We highly recommend you try out more than one type of paid channel to see effective results. A good combination to start with is paid search, social ads, and display ads. You will be able to capture people who are actively searching for you, retarget people who might have visited your website but didn't convert, and stay top of mind!
Programmatic display advertising is a new form of advertising that businesses of all sizes are jumping on board with. Instead of going to each publisher and negotiating a deal to place your ad on their site, this process is automated through machine learning ad tech. It grants you access to countless ad publishers, widening your audience reach more than ever. Another perk is that it centralizes your advertising channels where all the data can sync together. Consider looking into a programmatic advertising platform or working with an advertising agency to help manage your paid advertising campaigns!
Social Media
Studies have shown that the COVID-19 pandemic has propelled more people online, social media included.
Some of the most popular social media channels include Facebook, Instagram, Twitter, TikTok, Snapchat, Reddit, Pinterest, etc. They are great channels to engage with your audience, especially to share the latest news via photos, videos, and captions.
They are also useful to promote your website and branded content. If you have a new blog article, announce it on social! You want to maximize exposure online.
Do note that you shouldn't spread yourself too thin by trying to be on every channel. Let's say you're a law firm. Perhaps having a social presence on Instagram wouldn't be isn't as effective as LinkedIn. Think about where your target audiences are likely to be and work on creating content for those channels!
Online Directories Google My Business
Another way to help people find your website is to list your business on online directories.
You will be able to list your business' contact information (name, address, phone number, etc.), office hours, services, and a link to your website. This enables more people to come across your business online, potentially driving more traffic.
One of the most prominent "directories" is Google My Business (GMB). When people are looking for a product or service, they are likely to turn to Google. By having a GMB listing, your business is more likely to pop up in the search results.
Google My Business also allows you to share updates such as seasonal offers or updates like blogs. Just like social media, you can cross-promote your content and entice people to click through to your website!
It is vital that you continuously deliver a great website experience for your users and amplify your efforts with these strategies, which are meant to interweave. By combining efforts to drive both paid and organic traffic, you'll be consistently bringing in quality audiences.
We hope these tips give you a better insight into what areas to focus on in your digital marketing strategy!
Related content from StrategyDriven
https://www.strategydriven.com/wp-content/uploads/search-engine-optimization-gd68810f61_1280.jpg
854
1280
StrategyDriven
https://www.strategydriven.com/wp-content/uploads/SDELogo5-300x70-300x70.png
StrategyDriven
2021-10-17 07:00:54
2022-02-14 14:42:00
5 Effective Ways to Drive Website Traffic