"A project is a temporary endeavor undertaken to create a unique product, service, or result."
Project Management Body of Knowledge
Third Edition
Project Management Institute
To many, project management represents their worst nightmare. The mere mention of the term conjures images of bloated bureaucracies, large consultant-laden teams, and endless meetings where decisions are seldom made and status is often reported as being behind. Executed properly, project management can be an effective tool for aligning the organization to the successful implementation of simple and complex initiatives.
An art and a science, project management is most effective when implemented with a rigor correlated to the scope and complexity of the work to be performed. Regardless of intensity, the management of projects consists of five phases:
Initiate – initial, high-level project definition and authorization
Plan – project scope refinement and approval; task identification and sequencing; resource to task allocation; schedule development; project cost estimation and budget development; project plan creation and baselining
Execute – project plan execution
Evaluate and Control – project plan execution performance monitoring and reporting; project scope and plan change control; project risk management
Close – final project activity documentation; financial closeout; overall project performance assessment and lessons learned development; product evaluation; project administrative closure
Focus of the Project Management Forum
Materials in the Project Management Forum are dedicated to discussing the leading practices of companies effectively managing projects for the efficient achievement of mission goals. Additionally, all project management information presented will be aligned with, compliment, and expound on the project management processes described by the Project Management Institute's A Guide to the Project Management Body of Knowledge
. The following articles, podcasts, documents, and resources cover those topics critical to the effective management of consequential projects.
Articles
Principles
Best Practices
Warning Flags
StrategyDriven Expert Contributor Articles
StrategyDriven Podcasts
StrategyDriven Podcast – Special Edition
Documents
Whitepapers
Resources
Books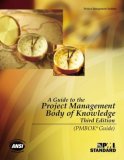 To supplement the project management information found on the StrategyDriven website, our contributors recommend the Project Management Institute's A Guide to the Project Management Body of Knowledge, Third Edition (PMBOK Guides)
. This book is a complete process reference covering all aspects of project management including:
Project Integration Management
Project Scope Management
Project Time Management
Project Cost Management
Project Quality Management
Project Human Resource Management
Project Communications Management
Project Risk Management
Project Procurement management
https://www.strategydriven.com/wp-content/uploads/SDELogo5-300x70-300x70.png
0
0
Nathan Ives
https://www.strategydriven.com/wp-content/uploads/SDELogo5-300x70-300x70.png
Nathan Ives
2008-08-19 21:37:13
2016-08-08 16:12:43
StrategyDriven Project Management Forum