Recommended Resource – One Foot Out The Door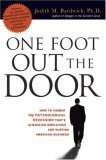 One Foot Out the Door: How to Combat the Psychological Recession That's Alienating Employees and Hurting American Business

by Judith M. Bardwick, Ph.D.
About the Reference
One Foot Out the Door: How to Combat the Psychological Recession That's Alienating Employees and Hurting American Business
by Dr. Judith M. Bardwick examines the changing employment relationship between American businesses and their workforces and the impact these changes have had on employee engagement and retention. Dr. Bardwick illustrates with hard numbers how employees, once accustomed to high job security, have entered into "a psychological recession" because of the employment uncertainty associated with today's frequent layoffs, downsizing, rightsizing, and outsourcing. She concludes her work with practical strategies for enhancing employee engagement; thereby increasing job performance and retention.
Benefits of Using this Reference
Success in today's rapidly evolving business environment requires the full engagement of employees' knowledge, skills, and experiences focused on the achievement of mission goals. As highlighted by Dr. Bardwick, the continuous reengineering of today's businesses places a strain on this engagement; one that must be overcome by executives and managers.
StrategyDriven contributors believe accountable, diverse, and inclusive organizations can overcome the "psychological recession" illustrated in One Foot Out the Door
and that executives and managers implementing Dr. Bardwick's recommendations will be better able to fully engage their employees by making them feel that they and their work are valued and significantly contribute to the organization's success.
Many of the best practice recommendations found on the StrategyDriven website compliment the actions prescribed by Dr. Bardwick in One Foot Out the Door
, making this book a StrategyDriven recommended read.
Additional Resources
Interviews with Dr. Bardwick regarding One Foot Out the Door
can be enjoyed from the following two websites:
Related content from StrategyDriven
https://www.strategydriven.com/wp-content/uploads/SDELogo5-300x70-300x70.png
0
0
StrategyDriven
https://www.strategydriven.com/wp-content/uploads/SDELogo5-300x70-300x70.png
StrategyDriven
2008-01-27 10:29:14
2015-09-17 23:18:39
Recommended Resource – One Foot Out The Door