Corporate Cultures – Individual Initiated, Knowledge and Skills Controlled Environment
The Individual Initiated, Knowledge and Skills Controlled Environment is one of two anchor points on the Culture-based Work Performance Model. Subsequently, organizations aligned with this culture set represent the highest level of engagement and creativity while incurring the greatest degree of risk in work consistency and efficiency.[wcm_restrict plans="61104, 25542, 25653″]
The following characteristics, benefits, risks, and risk mitigators are representative of the Individual Initiated, Knowledge and Skills Controlled Environment.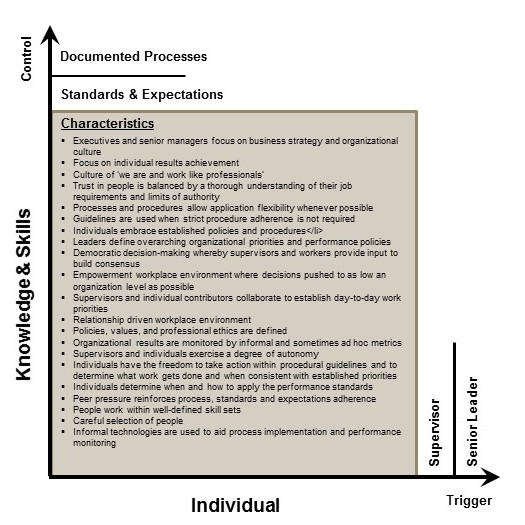 Figure 1 – Individual Initiated, Knowledge and Skills Controlled Environment
Characteristics
Executives and senior managers focus on business strategy and organizational culture
Focus on individual results achievement
Culture of 'we are and work like professionals'
Trust in people is balanced by a thorough understanding of their job requirements and limits of authority
Processes and procedures allow application flexibility whenever possible
Guidelines are used when strict procedure adherence is not required
Individuals embrace established policies and procedures
Leaders define overarching organizational priorities and performance policies
Democratic decision-making whereby supervisors and workers provide input to build consensus
Empowerment workplace environment where decisions pushed to as low an organization level as possible
Supervisors and individual contributors collaborate to establish day-to-day work priorities
Relationship driven workplace environment
Policies, values, and professional ethics are defined
Organizational results are monitored by informal and sometimes ad hoc metrics
Supervisors and individuals exercise a degree of autonomy
Individuals have the freedom to take action within procedural guidelines and to determine what work gets done and when consistent with established priorities
Individuals determine when and how to apply the performance standards
Peer pressure reinforces process, standards and expectations adherence
People work within well-defined skill sets
Careful selection of people
Informal technologies are used to aid process implementation and performance monitoring
Benefits
Individuals empowered to resolve problems consistent with organizational values
Local decision-making enables rapid situational response
High degree of innovation at all organizational levels
Individual contributor self-reliance and self-motivation with little need for constant supervision or direction
Teamwork at the worker level
Deep respect for people and their contribution to the organization
Personal ownership of work and the company
High job satisfaction
High degree of self-checking of work performed
Openness to peer-checking from others particularly in cases of important, irreversible actions
Accountable, engaged, and motivated work force
Risks
Variations in priority setting by individuals misaligns organizational effort and reduces effectiveness ; work performed becomes misaligned with organizational goals
Work completion lacks timeliness
Inconsistent activity performance spills over into inconsistent results
Individuals perform similar/same tasks differently reducing performance consistency
Individual judgment is allowed to override formal direction
Expectations not followed when the individual 'knows better;' misuse of 'professional discretion'
Individuals take the wrong actions for the right reasons and behaviors subsequently deteriorate over time
Smooth/unified coordination between various work groups, departments, divisions, and business units
Extremely high resistance to change
Loss of knowledgeable, skilled, and experienced personnel greatly diminishes organizational capability and capacity
Changing business goals not readily translated into changed knowledge and skills
Lack of formal measurement systems hinders recognition of when performance deviates from expectation
Risk Mitigators
Identification of required knowledge and skills close to the work
Rigorously capture, document, and communicate mission critical organizational knowledge
Employ a comprehensive set of program performance measures to early identify deviations and defects
Engage supplemental support to add programmatic rigor to the implementation of important initiatives
Ensure implementation decisions and designs are thoroughly documented and retained in an accessible, indexed location
Note that organizational execution of one or more culture characteristic tenants may be flawed. In these instances, elimination of the deficiency often serves to significantly improve performance.[/wcm_restrict][wcm_nonmember plans="61104, 25542, 25653″]
---
Hi there! Gain access to this article with a StrategyDriven Insights Library – Total Access subscription or buy access to the article itself.
Subscribe to the StrategyDriven Insights Library

Sign-up now for your StrategyDriven Insights Library – Total Access subscription for as low as $15 / month (paid annually).

Not sure? Click here to learn more.

Buy the Article

Don't need a subscription? Buy access to Corporate Cultures – Individual Initiated, Knowledge and Skills Controlled Environment for just $2!
[/wcm_nonmember]
Related content from StrategyDriven
https://www.strategydriven.com/wp-content/uploads/IndivInitKSControlled3.jpg
525
525
StrategyDriven
https://www.strategydriven.com/wp-content/uploads/SDELogo5-300x70-300x70.png
StrategyDriven
2011-09-13 06:15:51
2019-03-24 17:59:09
Corporate Cultures – Individual Initiated, Knowledge and Skills Controlled Environment