Recommended Resources – An Interview with Joel Roth, author of The 20% Solution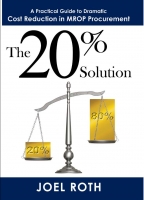 The 20% Solution: A Practical Guide to Dramatic Cost Reduction in MROP
by Joel Roth
The 20% Solution: A Practical Guide to Dramatic Cost Reduction in MROP by Joel Roth examines how businesses of all sizes can effectively exploit cost-cutting opportunities in times of economic recession, increased global competition, and credit and cash flow distress. Within The 20% Solution, Joel Roth provides actionable advice and real world examples of how businesses can reduce costs and increase productivity throughout their maintenance, repair, operating, and production supply chains.
Additional Insights… An Interview with Joel Roth, author of The 20% Solution
StrategyDriven contributors recently interviewed Joel Roth, author of The 20% Solution; receiving many invaluable, beyond the scope of the book insights.
SD : In The 20% Solution, you reveal that MROP supplies only account for about twenty percent of the average organization's overall supply budget. Why then should businesses focus their cost savings efforts here?
JR: First, because in most organizations, this represents a fertile area for cost-savings that have never been identified or exploited, while most other areas have been repeatedly mined. Second, this 20% of spend represents a highly disproportionate (about 80%) share of cost, time and effort throughout the supply chain.
SD : Joel, in The 20% Solution, you discuss 'hard' and 'soft' dollar savings. What is the difference between 'hard' and 'soft' dollar savings and why is it important to distinguish between the two?
JR: Hard savings are those represented by invoiced charges based upon price paid and quantity bought. They are generally variable expenses. Soft dollar savings are everything else including inventory investment and carrying costs, purchasing costs, accounts payable, and other administrative or overhead costs. They are important because they are fixed but hidden from view. Most procurement people tend to discount or scoff at the value of soft dollar savings because they are more difficult to measure.
SD : In The 20% Solution, you present several prerequisites that must be in place prior to moving forward with an MROP cost reduction initiative, one of these being an MROP database. What is the purpose of an MROP database?
JR: The database is the foundation for any effective cost control or cost reduction program. You cannot control or reduce what you cannot measure. Moreover, the database enables you to identify the greatest savings opportunities and set appropriate priorities.
SD : Two other prerequisites you discuss are goal setting and process feedback and control. What are some of the common performance measures organizations pursuing MROP cost reduction use and what target goals do they first establish?
JR: All goals should have these characteristics: 1.) reflect what management seeks to achieve e.g. reduction in costs, transactions, staff, errors, time, inventory, etc. 2.) quantify desired results and relate them to cost drivers e.g. cut maintenance spending by $10,000 per kwh produced 3.) be measurable against the database so that accomplishment can be determined and 4.) be significant enough to justify the time and effort to be invested.
SD : Joel, having met the prerequisites for an MROP cost reduction initiative, what are the critical, high level steps typically taken to execute the project?
JR: Management must back the program; responsibility must be specifically assigned; adequate resources should be allocated; and results should be measured against objectives. I would strongly suggest that key suppliers be made part of the initiative.
SD : You've provided readers with a great list of cost savings opportunities to assess in both the 'hard' and 'soft' savings areas within The 20% Solution. As a bonus for our StrategyDriven readers, are there one or two additional areas you would recommend they explore?
JR: In the present economic climate, there are a great deal of assets being made redundant due to cutbacks, closings, bankruptcies, downsizings, etc. I would suggest looking for good used or surplus materials in secondary markets rather than buying new.
SD : Joel, you suggested that an MROP cost reduction initiative could be used as a developmental opportunity for an up and coming manager. Such a project certainly requires a leader to work cross functionally with the business's many line and support organizations. What other developmental opportunities does an MROP cost reduction initiative afford its project manager?
JR: Most top management does not come from a procurement background and does not realize the significant potential of an innovative/change-driven procurement function to dramatically affect corporate cash flow, investment and earnings, as well as risk/reward relationships. Someone who can learn to identify, dramatize and communicate the benefits of such a program to top management can move much further and faster in the organization than is typical. This is addressed in The 20% Solution.
SD : Joel, your website, www.the20percentsolution.com provides additional resources for those seeking to pursue MROP cost reductions. Would you tell us a bit about the website and its content?
JR: If you click on the Resources Section of the website, you will find substantial additional insights into corollary topics such as innovation, changing the strategic role of purchasing and other examples of cost-savings techniques, as well as my availability to assist those who wish to pursue these programs.
Final Thoughts…
The StrategyDriven team would like to thank Joel Roth not only for sharing his time but also for his beyond the scope of the book insights on streamlining the MROP supply chain process. We found The 20% Solution to be particularly valuable because it provides actionable insights and real world examples for achieving cost reductions and process streamlining, both of which make an organization more effective. Additionally, Mr. Roth's use of self assessments, performance goals, and feedback and control systems compliment many of the best practice recommendations found on the StrategyDriven website; all of which make The 20% Solution a StrategyDriven recommended read.
---

Joel Roth, author of
The 20% Solution: A Practical Guide to Dramatic Cost Reduction in MROP
has owned and operated ten industrial supply chain companies and is the current owner of Fulton Supply Company, an Atlanta based organization providing industrial supplies and MROP cost reduction consulting services. Joel is a former member of the National Association of Purchasing Management, a member of Affiliated Distributors and Industrial Supply Association. To read Joel's complete biography,
click here
.
Related content from StrategyDriven
https://www.strategydriven.com/wp-content/uploads/SDELogo5-300x70-300x70.png
0
0
Nathan Ives
https://www.strategydriven.com/wp-content/uploads/SDELogo5-300x70-300x70.png
Nathan Ives
2009-04-23 03:04:49
2015-09-17 23:17:20
Recommended Resources – An Interview with Joel Roth, author of The 20% Solution