Recommended Resources – An Interview with Ronald Heifetz, Alexander Grashow, and Marty Linsky, authors of The Practice of Adaptive Leadership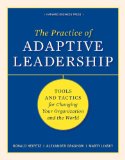 The Practice of Adaptive Leadership: Tools and Tactics for Changing Your Organization and the World

by Ronald Heifetz, Alexander Grashow, and Marty Linsky
The Practice of Adaptive Leadership: Tools and Tactics for Changing Your Organization and the World
by Ronald Heifetz, Alexander Grashow, and Marty Linsky provides guiding questions, worksheets, and exercises to help business leaders make progress even under the toughest circumstances. Readers learn to focus on adaptation rather than execution, orchestrate conflict rather than resolve it, and nurture interdependence rather than self-reliance. Using these tools, leaders build adaptive organizations that are able to thrive an ever complicated world.
Additional Insights: An Interview with Ronald Heifetz, Alexander Grashow, and Marty Linsky, authors of The Practice of Adaptive Leadership, Tools and Tactics for Changing Your Organization and the World
StrategyDriven contributors recently interviewed Ronald Heifetz, Alexander Grashow, and Marty Linsky, authors of The Practice of Adaptive Leadership
; receiving many invaluable, beyond the scope of the book insights.
SD: To begin our discussion, I hoped we could establish a frame of reference for our listeners by first defining what is meant by adaptive leadership and then comparing and contrasting adaptive leadership with the more directive, hierarchical leadership approach used in the past?
RH, AG, ML: Adaptive Leadership is what is required when the problems being faced have no known solution. When facing complexity and change, it can be tempted to try patterns of the past that have worked. When business as usual doesn't work anymore, the organization needs to build adaptive capacity to build tomorrow's business practices. Traditional hierarchical leadership works when the problems being faced have known solutions and the work is really about managing people and processes to efficiency.
SD: Does adaptive leadership mean that the leader much adapt his or her values to the given situation or simply his or her leadership approach with one's personal values being foundational regardless of the situation?
RH, AG, ML: First of all we consider leadership a behavior or an activity, not a person. Adaptive leadership requires learning and question which of the current values and norms may need to change in order to move forward. The person practicing leadership needs examined their own deeply held values as well as everyone else's.
SD: Because members of an organization will observe the adaptive leader changing his or her approach depending on the given circumstances, is there a risk that the leader will be viewed as a chameleon, changing so as to be self serving? And if so, how does a leader avoid this appearance?
RH, AG, ML: In practicing management consistency is a virtue. In leadership it is a liability. If people know how you will act and what 'buttons' to press, your options for engagement will be limited. Most people need to practice a mix of both management and leadership and yes you are right, too much change all the time will be disorientating. Reading and learning how to balance the two different skills of management and leadership is an important skill.
SD: I have always found that fundamental to engaging the minds and hearts of those I was leading was to first gain their trust. How does adaptive leadership directly and indirectly earn the trust of those who are following?
RH, AG, ML: In leadership, there is a paradox of trust. Trust is earned by doing what people expect and yet leadership requires you to go beyond those expectations. One of our current favorite definitions of leadership is disappointing your own people at a rate they can absorb. In other words you have to stretch the trusting relationship to new boundaries and possibilities.
SD: In The Practice of Adaptive Leadership
, you discuss adaptive leadership as an approach, I thought a system of processes, that leaders could use to be more effective. Could you provide our readers with a high level overview of the adaptive leadership approach?
RH, AG, ML: Half of leadership is diagnosis. Much of our work with clients is about trying to stop the leap to action to spend more time understanding the external context and internal dynamics. Once you can begin to see the patterns and realities at play, then the work is to determine what of the Business 'DNA' is essential to the future and what is expendable patterns of the past. The work now is to hold people through the process of change, creating a value proposition for moving off of business as usual, holding them through the process of loss when giving up patterns of the past and strategically experimenting and inventing the new.
SD: What do you see as the key characteristics or traits of the adaptive leader?
RH, AG, ML: The ability to get above the noise, what we call 'getting on the balcony' and spending more time in interpretation is a critical skill set. Because there is no reason to practice leadership without a compelling reason or value proposition, the ability to connect to and articulate purpose is also key.
SD: Are there any organizational types or cultures within which the adaptive leader would not be effective?
RH, AG, ML: In technical organizations or contexts, where the business as usual works and the context is not changing, a management challenge is being faced, not an adaptive challenge. When we starting writing the book four years ago, we did not imagine that organizations and communities would be facing the amount of adaptive challenges we face today. We have been lucky to learn along with our clients, students and colleagues that there is a set of skills, tools and practices that can help make progress against critical challenges and the unknown challenges ahead.
Final Thoughts…
The StrategyDriven team would like to thank Ronald, Alexander, and Marty not only their time but for sharing their beyond the scope of the book insights on adaptive leadership. We thoroughly enjoyed The Practice of Adaptive Leadership
, not only for its depth of insight but also for the unique case studies and challenging On The Balcony and On The Practice Field questions posed; giving the reader clear starting point from which to become a more adaptive leader. These assessment tools compliment many of the best practice recommendations found on the StrategyDriven website; all of which makes The Practice of Adaptive Leadership
a StrategyDriven recommended read.
---
About the Authors
Ronald Heifetz and Marty Linsky are co-founders and Alexander Grashow is Managing Director of Cambridge Leadership Associates (www.cambridge-leadership.com), an international leadership development firm with clients from around the world in the corporate, non-profit, and public sectors, including Microsoft, IBM, Pfizer, CARE, YMCA, Boston Public Schools, the Dubai School of Government, and the African Leadership Group, among others. Each week, the authors answer questions about leadership in their online column for The Washington Post.

Ronald Heifetz is also the founding director of the Center for Public Leadership at Harvard University's John F. Kennedy School of Government. Renowned for his seminal work on the practice and teaching of leadership, his research focuses on how to build adaptive capacity in societies, businesses, and nonprofits. He speaks and consults extensively in the United States and abroad.
Heifetz's widely acclaimed book, Leadership Without Easy Answers has been translated into many languages and is currently in its twelfth printing. He is also the co-author of Leadership on the Line: Staying Alive through the Dangers of Leading, written with Marty Linsky. Heifetz is a graduate of Columbia University, Harvard Medical School, and the John F. Kennedy School of Government.

Marty Linsky has had 25 years of experience as a leadership consultant, author and educator. His clients come from public, private, and non-profit sectors in the U.S. and abroad. Linsky has been on the faculty at Harvard's Kennedy School since 1979, except for three years as Chief Secretary to the Governor of Massachusetts. He has been chair of several of the School's Executive Programs on leadership. Linsky has served as a Massachusetts state legislator, an editorial writer and reporter for The Boston Globe, and editor of The Real Paper. In addition to contributing regularly to The Washington Post website, Linsky blogs at Linsky on Leadership. He is a graduate of Williams College and Harvard Law School.

Alexander Grashow is responsible for the overall design and content of Cambridge Leadership Associates programs. He has worked extensively with executive teams and is experienced in delivering adaptive leadership in a variety of formats and geographies. Before joining CLA, Grashow worked at The Synergos Institute, where he was the co-founder and director of the Bridging Leadership Program, designing collaborative partnerships and leadership trainings across Africa, Asia, Latin America, and the United States.
Grashow has been on the executive education faculty at the Wagner School at New York University, Duke Corporate Education, and Harvard's Kennedy School. A graduate of Wesleyan University, and a former Coro Fellow, Alexander studied economics and fine arts, and is also the co-founder of the U.S.-Africa Children's Fellowship, an international non-profit that partners with schools in Africa.
Related content from StrategyDriven
https://www.strategydriven.com/wp-content/uploads/SDELogo5-300x70-300x70.png
0
0
StrategyDriven
https://www.strategydriven.com/wp-content/uploads/SDELogo5-300x70-300x70.png
StrategyDriven
2009-08-11 20:24:13
2015-09-17 23:16:43
Recommended Resources – An Interview with Ronald Heifetz, Alexander Grashow, and Marty Linsky, authors of The Practice of Adaptive Leadership