Thank God It's Monday! Book on Kindle Available at No Cost from August 2-7, 2010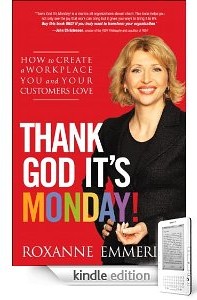 Over the past year, we've been privileged to learn about creating a more engaging and motivating workplace environment from Roxanne Emmerich, President and CEO of The Emmerich Group. We are pleased to announce that from now until August 7, 2010, Roxanne has made her bestselling book, Thank God It's Monday! How to Create a Workplace You and Your Customers Love (Kindle Edition) available for download at no cost from Amazon.com.
This is a very special limited time opportunity where you can get the Kindle version of the TGIM book, but only between August 2nd through the 7th, after that the price goes back up. Even if you already own your own copy of the book, you'll want to carry the digital version with you on your PC, Kindle or iPad.
Plus, you'll want to tell all of your friends and colleagues that you care about so they can get it too. Send tweets, Facebook it, blog about it, email and yell it from the roof tops… just make sure you let them know that the Kindle version will only be F-R–E–E between now and August 7, 2010.
Imagine giving them the gift of improving their workplace culture and finding out how to create a workplace where they love what they're doing… And customers love them too!
This is a limited time offer, sponsored by the publisher to create a massive impact and help companies looking to bust bad attitudes, kick-start sagging sales figures, and create companies that employees love to work FOR and customers love to work WITH.
How to get it? Visit www.Amazon.com or search using your Kindle Reader device between now and August 7th and shop the Kindle Store for the title: Thank God It's Monday! by Roxanne Emmerich and then download it.
Want to learn more about Roxanne Emmerich and Thank God It's Monday!? Listen to the StrategyDriven Podcast interview during which Roxanne shares with us her insights on how to create a workplace that engages the hearts and minds of employees and customers; resulting in increased growth and higher profits.
Related content from StrategyDriven
Podcast: Play in new window | Download (Duration: 27:41 — 38.1MB)
Subscribe: RSS
https://www.strategydriven.com/wp-content/uploads/SDELogo5-300x70-300x70.png
0
0
StrategyDriven
https://www.strategydriven.com/wp-content/uploads/SDELogo5-300x70-300x70.png
StrategyDriven
2010-08-04 06:34:36
2013-06-17 12:01:25
Thank God It's Monday! Book on Kindle Available at No Cost from August 2-7, 2010