Recommended Resource – The Leader Phrase Book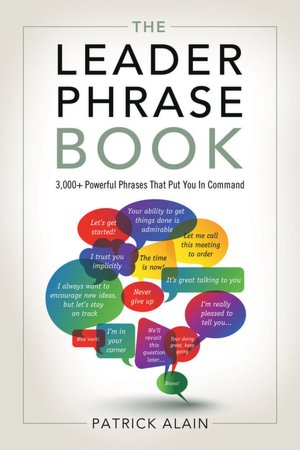 The Leader Phrase Book: 3000+ Powerful Phrases That Put You In Command
by Patrick Alain
About the Reference
The Leader Phrase Book by Patrick Alain provides professionals with the 'right thing to say' across a multitude of situations and spectrum of approaches. These phrases can help anyone prepare for interactions of all kinds with seniors, peers, and subordinates. A small sample of the situations covered include:
General Conversation – How to Agree, How to Disagree
At Work – How to Ask for a Raise, How to Ask for Time Off
Conflicts and Anger – How to Diffuse a Tense Situation, How to Stop a Conflict Between Other People
Diplomacy – How to Open Up a Topic for Debate, How to Wrap Up a Debate
Negotiation – How to Ask a Question, How to Stall
Problem Solving – How to Address/Acknowledge a Problem, How to Ask Someone for Help
Courtesy – How to Offer Your Help, When Someone Asks You for Help
Machiavellian Techniques – How to Destabilize Someone, How to Threaten Someone
Benefits of Using this Reference
StrategyDriven Contributors like The Leader Phrase Book because of its broad situational applicability and immediately implementable recommendations. This book helps new and experienced professionals build out their communications toolkit with approaches that will help them gracefully navigate difficult situations. Whether one desires to be formal or casual, courteous or rude, The Leader Phrase Book can be used to prepare for difficult conversations and, with practice, its phrases will become second nature; enabling the professional to adapt 'on-the-fly' when challenging circumstances arise. For its quality and actionable insights, The Leader Phrase Book is a StrategyDriven recommended read.
Related content from StrategyDriven
https://www.strategydriven.com/wp-content/uploads/SDELogo5-300x70-300x70.png
0
0
StrategyDriven
https://www.strategydriven.com/wp-content/uploads/SDELogo5-300x70-300x70.png
StrategyDriven
2012-06-21 06:30:35
2015-09-17 21:55:22
Recommended Resource – The Leader Phrase Book