Lead Like it Matters… Because it Does, part 1 of 4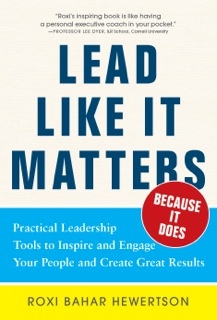 We asked Roxi Hewertson about the 8 overarching leadership insights that kick off her new book Lead Like it Matters…Because it Does
hitting the stores in just a few weeks. She agreed to share them with us as a four-part series.
Insight #1: Knowing is the easy part. Doing is the hard part.
Some of the best-intended and least effective leaders I have known regularly read lots of books and even more articles on leadership. They often know the buzz words and the jargon, the latest trend in strategic planning, and the best way to build a new organizational chart.
Retaining this plethora of information in your brain is one thing. Integrating what you learn into your behaviors and actions and making it real for you and those you lead is a much bigger challenge. Why? Because changing our behaviors is one of the most difficult feats known to humankind. There will be days you might think it would be easier to jump across the Grand Canyon! Unlike jumping the Grand Canyon, changing behaviors is possible.
To do anything new or difficult, you must be truly motivated, and you must know exactly what you want to change. You need to identify what success looks like for you – not someone else's definition, but your definition. You also need to develop an ongoing focus, along with built-in reliable sources of feedback about your progress.
Once you combine knowing and doing, you are well on your way. Don't give up on something that matters to you. You can expect to slip and fall. You will screw up. I don't know anyone who rode a bike perfectly the first time. It's also important to celebrate your progress, because each step, no matter how small, gets you closer to your goal.
Insight #2: Leading people is messy!
People are, and will always be, unpredictable. Each person is unique, and that means leading people is complex, fun, interesting, frustrating, and yes, messy.
Life happens, and it's full of triumphs and tragedies, any of which can happen to any of us at any time. We can't predict surprises! Leaders have to be ready for just about anything and everything.
Like it or not, every person brings their emotions to work. People are 24-hour thinking-feeling creatures. They can and often do behave differently from our preconceived perceptions and/or assumptions about them. Our values drive our decisions, which generates emotions that often show up in our behaviors. It's a knee bone connected to thigh bone kind of thing!
Emotions are contagious; we catch flyby emotions more quickly than we catch a cold. The idea that we can keep emotions out of the workplace is a lot of bunk.
Besides, we want people to feel when it suits us, right? We want them to be loyal, grateful, ethical, engaged, and kind to the people they work with and for. It's just the inconvenient feelings that we would like people to leave at the door. It doesn't work that way. We all bring our 24-hour, lifelong selves into work, like it or not.
Leading is one of the most rewarding jobs anyone can have, if and only if leading is joyful for you. If you find that most of the time, you dread the messiness of leading people, stop doing it. Go out there and do something that you really enjoy. Don't try to lead people unless you have a passion for doing so. You'll make yourself sick and everyone else at work and home miserable. The human and business costs are far too high, and really – it's just not worth it.
---
About the Author

Leadership authority Roxana (Roxi) Hewertson is a no-nonsense business veteran revered for her nuts-and-bolts, tell-it-like-it-is approach and practical, out-of-the-box insights that help both emerging and expert managers, executives and owners boost quantifiable job performance in various mission critical facets of business. Through AskRoxi.com, Roxi — "the Dear Abby of Leadership" — imparts invaluable free advice to managers and leaders at all levels, from the bullpen to the boardroom, to help them solve problems, become more effective and realize a higher measure of business and career success.
---
The StrategyDriven website was created to provide members of our community with insights to the actions that help create the shared vision, focus, and commitment needed to improve organizational alignment and accountability for the achievement of superior results. We look forward to answering your strategic planning and tactical business execution questions. Please email your questions to [email protected].
Related content from StrategyDriven
https://www.strategydriven.com/wp-content/uploads/SDELogo5-300x70-300x70.png
0
0
Nathan Ives
https://www.strategydriven.com/wp-content/uploads/SDELogo5-300x70-300x70.png
Nathan Ives
2014-09-24 06:09:48
2015-09-17 23:39:40
Lead Like it Matters… Because it Does, part 1 of 4