Top Cyber IT Security Trends in 2018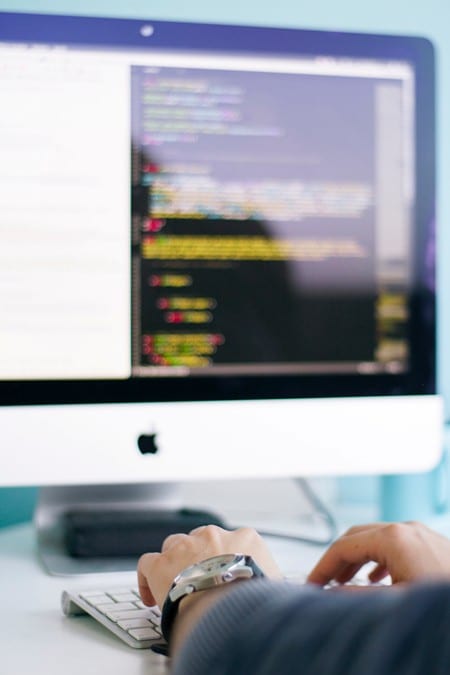 There are few businesses that don't rely on the transmission of sensitive digital data in the course of their day to day operations and because of this, cyber security is an ongoing concern. Unfortunately, the businesses that are caught in the crosshairs are small to medium size enterprises, or SMEs, since most lack the financial resources to employ full-time IT staff. For those companies looking to keep their data secure in 2018, it helps to become familiar with what is trending in cyberspace security.
From there, owners and directors are in a better position to know how to protect their company's sensitive data and that of any clients or customers who may also be harmed by even a single breach. Are you concerned over the data held on your computers and connected devices? If so, it pays to understand what you are up against.
Compliance with GDPR Regulations
Probably the biggest trend in cyber IT security is the newly launched GDPR regulations which are to be strictly adhered to by any member state of the EU. Also, anyone who does business with residents in the EU must be in compliance or face a stiff penalty. But, what are these regulations and why are they in place?
The first thing to understand is that the GDPR (General Data Protection Regulation) is in place to provide necessary layers of security to digital data, especially during the transmission of this data. With such a growing concern over data breaches and dangerous system hacks, the EU devised a set of requirements which member states and anyone doing business with member states must adhere to. Summed up, these regulations include:
Consent must be given by subjects for the processing of data
Privacy is to be protected by keeping collected data anonymous
Notifications must be sent if there is a data breach
Data must be handled safely across borders
Certain companies are required to appoint a DPS (Data Protection Officer)
Compliance is mandatory
You will notice that "certain companies" are required to appoint a DPO and it will be this person who oversees the internal IT support necessary to keep data secure. However, SMEs are probably 'exempt' from this requirement based on size and company worth. This leads us to the next top cyber IT security trend.
Managed IT Services to Ensure Data Protection
Since it isn't typically possible for small to medium size businesses to afford full-time IT support staff, a growing trend is to contract IT support providers that specialise in cyber security. Not only is it essential to keep a network up and running but the integrity of data is of ultimate importance to ensure compliance with GDPR. This is a growing trend, second only to understanding the basic guidelines which are to be followed. Even though most companies understand the rules, they are also unprepared for the technical applications which ensure compliance.
Another of the benefits of contracting IT support providers is that they can match your cyber security needs in a bespoke manner. Not all companies have the same needs and so a team of professionals can tailor your cyber security to the type of information stored, the places it is likely to be transmitted and keep any 'risk' factors to a minimum based on your system.
Putting AI to Work
Here is one specific task which will almost always need the services of IT professionals. Artificial Intelligence, AI, is on the cutting edge of cyber security. Now IT professionals are using AI to help them quickly identify possible threats without human intervention in order to prevent attacks before they happen. Bear in mind that cyber attacks happen so quickly that by the time anyone is aware that your system has been breached, it's most often too late.
Then it becomes a matter of making patches to areas through which the hackers were able to gain access to your data. Unfortunately, there is a down side to this as well. There is some amount of concern that hackers will begin using AI because, as is the case with defense, machine learning can assist cyber criminals to find weak spots where doorways can be created. To date, no AI attacks have been noted, so cyber security teams are still one up on would-be criminals.
A Growing Emphasis on Patches
If there is anything the WannaCry ransomware attack taught us it would be the need to keep up to date with patches as they are released. In fact, statistics prove that there are more than 4,000 ransomware attacks daily and that WannaCry was responsible for at least 230,000 computers being attacked in a single day across more than 150 nations. The reason this particular ransomware attack was able to reach that many systems is because they failed to download and install the patch Microsoft released after recognising the hole.
These companies either didn't understand the need for staying current with security patches or simply failed to do so based on time constraints of staff. When no one is in charge of IT security, someone needs to step away from their job to find a fix. This is often insufficient due to lack of knowledge and experience, so here again, it pays to use the services of IT support pros.
A Growing Need for Real Time Defense
Somehow the gap continues to grow between known malware and viruses and what anti-virus and anti-malware tools are able to protect in real time. As mentioned above, mutations of known malware and viruses are being released daily and it is almost impossible to keep up to date with the tools needed to guard against attack. However, that being said, IT security teams provide defence at the end-point so that they can check criminal behaviours before they impact your computer. Malicious behaviours are identified in real-time and stopped dead in their tracks before they are able to penetrate your computer.
Connected Devices Are a Growing Concern
Something else to look for in 2018 and beyond is a growing concern over the vulnerability of connected devices that are rolling out by the billions each and every day around the globe. The IoT is a wonderful boon for anyone seeking ease of use or remote access, but when it comes to the potential for hacking, they can be a real risk. Since each device is connected to your computer and through your computer to the network, hackers can now target the device in order to find a back door into your system. You will see a growing emphasis on IoT (Internet of Things) security in the coming years, but this one area is of high importance in 2018.
Related content from StrategyDriven
https://www.strategydriven.com/wp-content/uploads/CyberSecurity.jpg
675
450
StrategyDriven
https://www.strategydriven.com/wp-content/uploads/SDELogo5-300x70-300x70.png
StrategyDriven
2018-06-25 11:00:25
2018-06-25 18:52:55
Top Cyber IT Security Trends in 2018