How to Make Your Management Process More Agile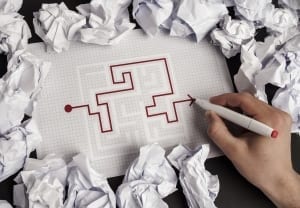 In contrast to startups, which often experiment until they gain their footing in the market, established businesses are notoriously slow to change.
This is unfortunate because we're currently experiencing the biggest global upheaval of any time in history since the industrial revolution.
In order to adapt to a climate charged by automation, market shifts, and globalization, companies need to evolve to meet changing priorities and conditions.
That's how you maintain your competitive edge.
It's the essence of agility.
Why Agility is Important for Your Business
Agility is defined by McKinsey & Company as "… the ability of an organization to renew itself, adapt, change quickly, and thrive in an environment characterized by rapid change, ambiguity, and turbulence."
This is often driven by necessity during a major paradigm shift, but the need is also present during market fluctuations and other upheavals, major and minor.
It's no longer the domain of tech companies, as industries from manufacturing to finance are entering a tech-driven phase.
These transformations are shaped by:
The introduction of disruptive technologies
Fast-evolving business environments
Rapid information democratization and digitization
Competition to find and recruit new talent
When a business prioritizes adopting an agile business model, they're better able to weather business downturns and see challenges as opportunities for growth and innovation.
Agility allows your company to:
Adjust strategies to meet goals
Meet unanticipated events with confidence
Respond to uncertainty with speed and flexibility
In order to become a lean, flexible company that can rise to the top of your market, you must be willing to take a critical look at procedures and enact change, infuse staff with the ability to take ownership of successes and failures and embrace a new corporate mindset.
If you want to improve your company's level of agility, ask yourself the following questions:
Where are we struggling, and what can we do to change this?
How do we implement an agile mindset to incorporate both sides of the productivity equation?
How can we embed a more customer-centric focus on our corporate culture?
How can we empower our employees to take greater accountability for outcomes?
Part of this process takes a bit of self-awareness and honest assessment.
The rest can be gleaned by mirroring companies that have successfully achieved greater agility.
Factors That Contribute to Business Agility
While 90 percent of the most successful enterprises feel that agility is critical to their success, only 26 percent of corporations feel that their company has achieved the level of necessary flexibility.
What's more, a survey conducted by Korn Ferry for Focus found that only 74 percent of the respondents who felt agility was critical incorporate it into the hiring/promotion process. This number drops to 66 percent of peer, non-WMAC enterprises.
What are the traits that define agile corporations?
You'll find that the best of them exhibit the following characteristics.
#1 They Support Employee Engagement
Transform your workforce from a team of individuals who wait for orders to a cooperative force that acts proactively to make decisions.
You should obtain feedback and involve staff members in the decision-making process.
When staff feels invested and involved in the success of the enterprise, they're better able to align themselves with the company's goals and mission.
However, those goals must be clearly stated and understood by the staff at every level.
#2 They Use Advanced Technology to Enhance, Rather Than Replace, Human Productivity
Between fatigue and inattention brought on by boredom or redundancy, core business functions are prone to human error.
Using automation not only makes your business more efficient – and core processes like cost accounting more accurate – it also saves time and money.
Take inventory management, for example. Overstocking is an issue for many businesses because keeping the right balance of goods-on-hand to meet demand is often a guessing game.
If you don't have a product in-stock, your customers will find another supplier. Too much inventory, and you'll end up marking items down just to get rid of them.
With the traditional way of inventory control, the average ratio of sales to inventory is 1:1.43.
Inventory management software offers data-driven automation and takes the guesswork out of ordering stock while freeing inventory and production managers to focus on more critical activities.
#3 They Model Non-Traditional Corporate Structures
There was a time when executives liked to refer to their companies as well-oiled machines.
In a report conducted by McKinsey & Company, the concept of a modern, agile enterprise likens them more to dynamic organisms than static, rigid structures.
The focus is on rapid forward movement without losing stability and working within cross-functional teams rather than adhering to a strict top-down hierarchy.
#4 They Focus More on Developing Leadership Than Managing Staff
Change begins at the top.
In order for an agile corporate culture to flourish, managers have to become more than just middlemen and women who pass on and enforce orders from the decision-makers to the rank and file.
You need to give those under your direction purpose and a vested interest in successful outcomes. This can be achieved by recognizing and developing talent as well as giving staff a higher level of autonomy.
Engage in continuous employee management activities that foster growth and career development. There's even performance management technology that's designed to aid leaders through employee training and education. However, nothing beats the personal touch of human-to-human interaction.
Final Thoughts
We're experiencing a sea change in how business is conducted in the 21st century.
If you want to remain competitive, agility is essential.
Developing even a few of the above characteristics will increase efficiency and return a great ROI in terms of time and money.
---
About the Author
Joe Peters is a Baltimore-based freelance writer and an ultimate techie. When he is not working his magic as a marketing consultant, this incurable tech junkie devours the news on the latest gadgets and binge-watches his favorite TV shows. Follow him on @bmorepeters
Related content from StrategyDriven
https://www.strategydriven.com/wp-content/uploads/human-3131802_1280.jpg
886
1280
StrategyDriven
https://www.strategydriven.com/wp-content/uploads/SDELogo5-300x70-300x70.png
StrategyDriven
2019-10-25 08:00:48
2019-10-25 23:44:52
How to Make Your Management Process More Agile