5 tips for a healthy work-life balance when working remotely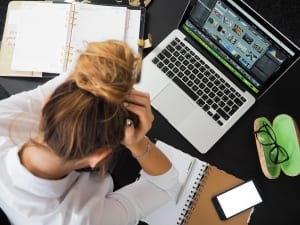 It is no understatement to say that the 2020 pandemic has turbocharged the existing well-documented trend towards greater remote working. "Remote work may be the most influential legacy of the Covid-19 pandemic," says a recent survey. Companies are now expecting a greater proportion of their workforce to remain working remotely, even after the pandemic has passed.
For teams and their leaders, the benefits of remote working can be significant. Cutting out the daily commute, spending more time at home and scheduling work around family commitments should make for a much healthier work-life balance. Remote employees work harder and are happier than office-based staff. Their engagement is higher than ever, thanks to new technology that allows for instant messaging, video conferencing, online collaborations and more.
However, if working from home is now becoming a permanent feature for many workers who were previously based at employer premises, it is ever more important to ensure that sensible boundaries are set to protect the delicate balance between professional and private life. Here are some useful tips on how to achieve this on a daily basis.
1. Create a consistent schedule
Regardless of whether you work at the office or at home, a set schedule will provide the necessary discipline to keep a reliable routine for work and off-work hours. Even if your organisation uses scheduling software, it may be worth investing in your own time management tool to keep track of the number of hours you are working and to organise your day efficiently.
While commuting may no longer be an issue, an effective morning routine to get yourself up and ready for work is highly recommended. It doesn't matter too much what it is – some people get dressed in business wear to get into work mode, others are happy in lounge wear – as long as it gets you into the proper mindset.
2. Communicate, communicate, communicate
Working from home can be a lonely business, which is why regular communication within the team is critical for remote teams. In addition to daily stand-ups, weekly meetings and other regular team communications, make sure you don't neglect informal messaging with your colleagues and line managers leaders. Remote communication tools such as Zoom and Slack have seen a meteoric rise in users in recent months, but there are many other suitable products.
One leadership coach has this valuable advice for team leaders in the current health crisis: "Now more than ever, it's important for your remote teams to feel their voices are being heard. They're likely to be feeling isolated, so encourage regular feedback and ideas. It's important for them to feel you're concerned for their wellbeing. You're all in this together, so make sure you keep listening." (Monkhouse & Company)
3. Ringfence and organise your workspace
A laptop on the sofa or the dining table may be a workable solution for the occasional WFH day. However, if you are working remotely on a more regular, permanent basis, you should create a work-only zone as a way to set up boundaries around your professional and private life. Whether you have a desk in the corner or separate home office, make sure your workspace is tidy and organised at all times.
Be open to the occasional change of scenery if you get stuck. Sometimes, a new environment can help to break the monotony, unblock your creativity and satisfy the need for social interaction. You could take your laptop out onto the patio on a summer's day, decamp to a local cafe with free WiFi, or use a coworking space.
4. Take scheduled breaks
Punctuate your working day with regular breaks. These don't have to be long but they should get you off your chair and moving around. Actively counteract the potential problems of a sedentary job with periods of stretching, walking around, even doing some housework. Short breaks here and there throughout the day are also mentally stimulating, making you more productive during the working day and less exhausted at the end of it.
Resist the temptation to snack rather than eat proper meals, or even forget to eat altogether. The occasional donut and caffeine-fuelled day as a short-term fix to meet an urgent deadline may be forgivable, but the consequences of a blood sugar crash will leave you empty and irritable. Better to focus on a nutritionally balanced diet and a proper lunch hour away from the desk.
5. Practise self-care
Remote working can take its toll on your mental health unless you pay attention to replenish your inner resources. While working at the desk all day can be exhausting, there's nothing like physical exercise to get yourself out of your head and into your body. From a quick yoga routine to taking the dog for a walk, a game of tennis or session at the gym, regular exercise is proven to reduce stress, improve concentration, memory, creativity and sleep.
Finally, there is a lot of truth in the old adage that 'all work and no play makes Jack a dull boy'. A healthy work-life balance requires you to pay attention to your off-duty needs such as making time for social interaction with friends, creative pursuits, gardening or just getting out and about!
Related content from StrategyDriven
https://www.strategydriven.com/wp-content/uploads/pexels-energepiccom-313690-scaled.jpg
1920
2560
StrategyDriven
https://www.strategydriven.com/wp-content/uploads/SDELogo5-300x70-300x70.png
StrategyDriven
2020-09-22 08:00:12
2020-09-22 20:36:48
5 tips for a healthy work-life balance when working remotely