It's here. The future. What will you do?
When I present to leaders the findings from our recent Future of Work Study, one slide draws the biggest Ahas.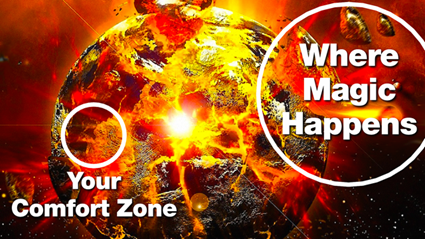 The next five years will be among the most disruptive in business, if not human, history. Everything you know, feel, and do will be Uber'd — you will experience massive disruptions that seem to come out of nowhere – disruptions that can uproot your entire businesses or industry before you've finished your morning cup of coffee.
To tackle those disruptions, most every major decision you'll need to make during 2016 will be outside your comfort zone.
[wcm_restrict]That's the one most important thing to remember throughout the coming year: If your decisions are within your comfort zone, they most likely are not the best decisions. If they are outside of your comfort zone, they may or may not be the best decisions, but they are most likely heading toward the future.
Q: So What, Now What?
A: Will You Be the Disruptive Hero We Need?
I'm sure you quickly noticed that I answered a question with a question. That's because no one can truly answer what to do about all those disruptions but you. Not your manager or company, not your strategic plans or your customers. You need to answer the So What? question from your perspective. Choosing your gutsy future is a personal affair.
No matter what others or outside forces throw at you, your 2016 will reveal itself to you only after you have made a deeply personal choice about how you will embrace it.
One thing is certain: The future resides outside your comfort zone. To get there successfully, you'll need to make choices you're not yet ready to make.
There are many ways I coach leaders on how to leap where the magic happens. Here is one simple exercise to get you started…
List the top three business challenges you believe you or your company will face in 2016
Roleplay as a disruptor: How would someone from the outside completely blow up how you go to market and how you approach getting things done?
Sit down with at least five trusted friends, advisors, and mentors. Ask them about the boldest (not the safest) ways they could see addressing those challenges
Those conversations will not make the decisions for you, but they will begin to shape the space you'll need to embrace during 2016.
To jumpstart your efforts, here are two of the quotes from the thousands of leaders I've interviewed about the future of work:
"Becoming secure with insecurity is the best security that you can have." -Roz Savage
"Vulnerability, living on the edge of risk, is when you truly start living!" -Morgana Bailey
Will you be the disruptive hero that you, and all of us, need and deserve in 2016? Only you can answer that question.[/wcm_restrict][wcm_nonmember]
---
Hi there! This article is available for free. Login or register as a StrategyDriven Personal Business Advisor Self-Guided Client by:
Subscribing to the Self Guided Program - It's Free!
[/wcm_nonmember]
---
About the Author

Bill Jensen is CEO of the Jensen Group, a New Jersey-based change consulting firm, focused on the future of work. As Mr. Simplicity, Bill makes it easier for people to do great work. His eighth book, Future Strong
, is on sale now. Follow him on Twitter @simpletonbill.
https://www.strategydriven.com/wp-content/uploads/JensenSlideImageStrategyDriven2.png
360
640
StrategyDriven
https://www.strategydriven.com/wp-content/uploads/SDELogo5-300x70-300x70.png
StrategyDriven
2015-12-10 11:00:39
2016-01-30 20:41:25
2016: One Thing to Remember