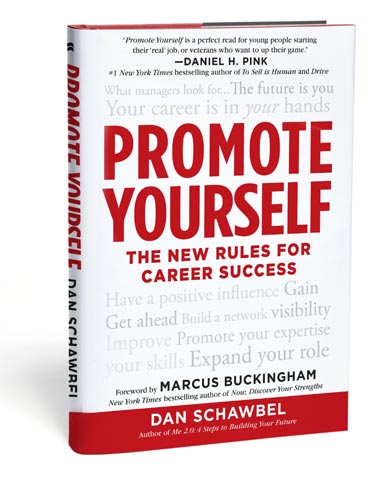 Promote Yourself: The New Rules for Career Success

by Dan Schawbel
About the Book
Promote Yourself
by Dan Schawbel provides tangible advice for gaining the visibility necessary for career advancement without appearing to be overtly self-serving. Dan delves into the hard and soft skills needed for success in today's professional world as well as what managers are seeking when deciding whom to promote. Once presented, Dan provides actionable advice for developing those skills required for advancement.
Some of the specific topics addressed within Promote Yourself include:
Hard skills required to be more than your job description
Soft skills necessary to make every impression count
Online skills to use social media to your advantage
Gaining visibility without being a self-promoting jerk
What managers look for when deciding whom to promote
Building a network at work and beyond
Benefits of Reading this Book
StrategyDriven Contributors like Promote Yourself because it provides immediately actionable steps to take charge of one's career in a positive and effective manner. Dan tackles the unique challenges of today's workplace environment – social media, advancing technology, generational gaps, and workforce mobility – revealing how to successfully deal with each by leveraging resources and opportunities internal and external to one's company. He also provides an insightful discussion of addressing the need for change with one's boss and knowing when it is time to move on. Dan's recommendations align with our personal professional experiences, many of which are echoed on the StrategyDriven Professional website.
Promote Yourself focuses on professionals within the workforce and, in our opinion, would not be as useful to non-professional workers. Our experience also suggests Dan's insights best apply to management consultants and that some additional and/or modified actions would better support those professionals working in more traditional, hierarchical organizations. Lastly, we believe Promote Yourself more ideally fits entry, lower, and mid-level professionals than second tier managers and above.
Promote Yourself reflects many of the professional development and career advancement principles recommended on the StrategyDriven Professional website making it a StrategyDriven recommended read, particularly for college seniors and professionals below the first-line manager level.
https://www.strategydriven.com/wp-content/uploads/SDELogo5-300x70-300x70.png
0
0
Nathan Ives
https://www.strategydriven.com/wp-content/uploads/SDELogo5-300x70-300x70.png
Nathan Ives
2013-09-05 06:46:37
2020-03-17 21:57:31
Recommended Resources – Promote Yourself