Recommended Resources – Freakonomics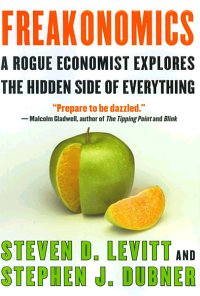 Freakonomics: A Rogue Economist Explores the Hidden Side of Everything

by Steven D. Levitt and
Stephen J. Dubner
About the Book
Freakonomics
by Steven D. Levitt and Stephen J. Dubner challenges conventional thinking by using economic analysis to uncover the underlying causes of everyday life events. Steven and Stephen reveal that economics is simply the study of incentives and that by understanding incentives one can reveal the hidden truth about why people behave as they do and the results consequently achieved. Freakonomics examines the commonly held myths surrounding:
Campaign finance
Cheating schoolteachers and sports players
Crime rates
Child-rearing
Why You Should Read This Book
StrategyDriven Contributors like Freakonomics for its logical approach to cause and effect analysis. Steven and Stephen examine problems from an unconventional viewpoint, unwilling to accept conventional wisdom as to why the world works as it does. Through their relentless pursuit of the truth, they expose many of society's falsely held beliefs and reveal the incentivized behaviors driving the results we observe.
While sometimes controversial, Freakonomics represents the questioning attitude StrategyDriven promotes. Steven and Stephen push to find the highly quantified correlations between cause and effect necessary for sound decision-making. And although based on strong analytical principles, Freakonomics is written as a collection of easy-to-understand stories.
Freakonomics does not present a step-by-step method of performance improvement common to those books we typically recommend. However, it clearly conveys the importance of relentlessly asking those questions and performing those analyses necessary to gain an understanding of the true drivers of performance and is therefore a StrategyDriven recommended read.
Related content from StrategyDriven
https://www.strategydriven.com/wp-content/uploads/SDELogo5-300x70-300x70.png
0
0
StrategyDriven
https://www.strategydriven.com/wp-content/uploads/SDELogo5-300x70-300x70.png
StrategyDriven
2013-06-06 06:25:16
2016-04-30 17:59:13
Recommended Resources – Freakonomics