Performance Measures and Thresholds Aligned with Regulatory Standards
Federal, state, and local governments regulate almost every aspect of the business environment. While many requirements necessitate one-time actions, others govern ongoing business operations. Performance measures dedicated to monitoring compliance with regulatory requirements and possessing thresholds tailored to ensuring timely, preemptive corrective actions prevent noncompliance, provide regulatory margin, and minimize management distraction.[wcm_restrict plans="41685, 25542, 25653″]
Identifying Regulatory Compliance Performance Measures
Compliance with regulatory requirements governing ongoing, dynamic operations benefit from dedicated performance measures. Monitoring requirements satisfied with one-time actions tend to be an unnecessary administrative burden and are therefore not recommended. Ongoing compliance with these regulations is better assessed through the performance of periodic self-assessments. Examples of regulatory requirements governing ongoing, dynamic operations include:
Employee concerns program participation and effectiveness
Corrective action program participation and effectiveness
Product and operations quality assurance and controls effectiveness
Equal Employment Opportunity program effectiveness
Sarbanes-Oxley financial reporting and controls program effectiveness
When considering what regulations should be monitored using performance metrics, include those possessing one or more of the following characteristics:
Ongoing performance monitoring is required by the regulation
Routine, recurring operational performance of a small group of individuals is needed to ensure compliance or places compliance at risk
Recurring operational performance of a broad cross-section of organizational personnel is needed to ensure compliance or places compliance at risk
Specific system operational performance or conditions must be maintained to comply with the regulation
Output product or service result must be within a specified parameter range to comply with the regulation
After identifying the regulations to be monitored, define the one or more metrics needed to monitor the specific compliance parameter(s). These parameters may be defined within the regulation itself or supporting regulatory guidelines (Reg Guide) documents. For highly dynamic operations that can rapidly evolution into a noncompliant condition, consider development of slower moving subordinate predictive measures.
Some primary and/or subordinate regulatory requirement monitoring metrics may already exist within the organization's established performance measures system. In these instances, the regulatory action thresholds should be defined and added to the existing metrics.
Defining Regulatory Compliance Action Thresholds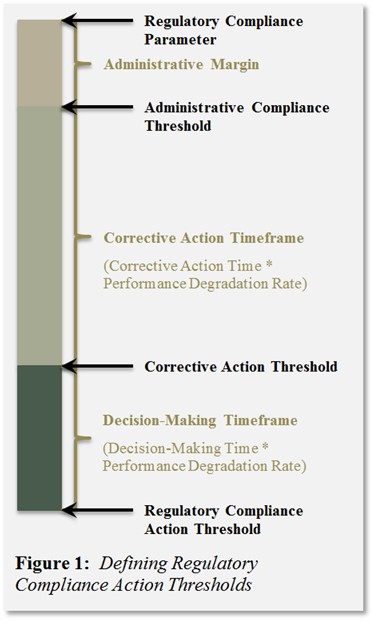 Regulatory requirement thresholds provide organization leaders the opportunity to prevent the development of a noncomplying condition. Thus, they must provide enough time to identify and respond to the degrading condition prior to exceeding the associated regulatory limit.
To define regulatory compliance action thresholds, metrics developers should perform the following steps:
Identify the condition or parameter that is not to be exceeded
Define an administrative margin to the regulatory parameter consistent with the organization's risk tolerance. The established threshold should ensure that the regulatory required parameter minus the administrative margin is not exceeded
Determine the conservative amount of time necessary to implement likely corrective actions resolving an adverse performance trend
Identify the likely rate of performance degradation
Calculate the performance point at which corrective action must be taken in order to prevent exceeding the administrative threshold. The corrective action performance point is calculated as the administrative threshold minus the product of the corrective action time and performance degradation rate
Determine the conservative decision-making timeframe, including degrading condition identification time delay; reporting time; leader notification time; and resolution identification, approval, communication time
Calculate the final regulatory compliance action threshold as the corrective action performance point minus the product of the decision-making timeframe and performance degradation rate
See Figure 1 for a graphic representation of the regulatory compliance action threshold development process.
Implementing Regulatory Compliance Performance Measures
Metric update and monitoring frequency is key to successful implementation of regulatory compliance monitoring performance metrics. As suggested within the compliance action threshold development process, longer condition identification time delays make the final regulatory compliance action threshold more conservative and, consequently, operations more restrictive. Therefore, the measure update and monitoring frequency needs to balance these operational restrictions with the metric's associated administrative maintenance burden.
Finally, strong ownership for regulatory compliance performance measures must exist in order for them to be affective. As such, these measures are typically assigned to multiple groups, those monitoring performance, those whose actions impact performance, and those responsible for compliance oversight. Once implemented, representatives from each of these groups typically meet jointly to review monitored performance and identify follow-on actions as needed.[/wcm_restrict][wcm_nonmember plans="41685, 25542, 25653″]
---
Hi there! Gain access to this article with a StrategyDriven Insights Library – Total Access subscription or buy access to the article itself.
Subscribe to the StrategyDriven Insights Library

Sign-up now for your StrategyDriven Insights Library – Total Access subscription for as low as $15 / month (paid annually).

Not sure? Click here to learn more.

Buy the Article

Don't need a subscription? Buy access to Organizational Performance Measures Best Practice 27 – Performance Measures and Thresholds Aligned with Regulatory Standards for just $2!

[/wcm_nonmember]
---
About the Author

Nathan Ives is a StrategyDriven Principal and Host of the StrategyDriven Podcast. For over twenty years, he has served as trusted advisor to executives and managers at dozens of Fortune 500 and smaller companies in the areas of management effectiveness, organizational development, and process improvement. To read Nathan's complete biography, click here.
Related content from StrategyDriven
https://www.strategydriven.com/wp-content/uploads/RegulatoryThresholds.jpg
282
426
Nathan Ives
https://www.strategydriven.com/wp-content/uploads/SDELogo5-300x70-300x70.png
Nathan Ives
2013-12-03 06:37:07
2020-10-24 16:31:15
Performance Measures and Thresholds Aligned with Regulatory Standards