Leadership Lessons from the United States Naval Academy – Human Connection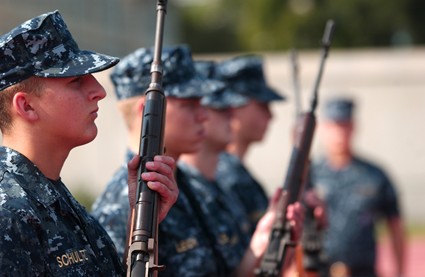 "The sweetest sound to anyone's ears is the sounds of his own name."
Robert C. Lee (1888 – 1971)
Rear Admiral, United States Navy
From their first days as Plebes (freshman) at the United States Naval Academy, midshipman are taught that all people are social creatures who need to connect with others; to be valued and respected. They learn that unstoppable teams are first created through knowledge, value, and respect for each other.[wcm_restrict plans="25541, 25542, 25653″]
Beyond knowing just the names of their classmates, individuals who are critically important to their success during the indoctrination process, their four years at the academy, and their years of service in the United States Navy, midshipman are also required to know the hometown, family names, and a unique like or quality about each classmate within their assigned unit (company). Consequently, these strangers, brought together from every state, territory, and allied nation, go from being complete strangers to being deeply familiar with each other quickly; creating a knowledge, value, and respect for each person as an individual and contributor to their team.
Through this practice, every midshipman gains a sense that who they are and where they come from is important to their classmates and their classmates become important to them.
This lesson is important in business and in life. Business professionals need to not only know and properly use the names of their seniors, peers, and subordinates, but to establish an even greater personal connection through knowing more than just each person's name. When individuals believe those around them know, value, and respect them, a team is formed that can accomplish incredible things.
People appreciate when others care enough to know more about them than just their name. Think about it… those we respect the most as leaders are often those who walk into a room and almost instantly create a connection with everyone. And we marvel at those who can remember people's names and something special or specific about their past interactions; especially over long periods of time.
We as humans are social creatures and, as taught the United States Naval Academy, a social connection begins with knowing a person's name and a little bit more.[/wcm_restrict][wcm_nonmember plans="25541, 25542, 25653″]
---
Hi there! Gain access to this article with a FREE StrategyDriven Insights Library – Sample Subscription. It's FREE Forever with No Credit Card Required.
Sign-up now for your FREE StrategyDriven Insights Library – Sample Subscription
In addition to receiving access to Leadership Lessons from the United States Naval Academy – Human Connection, you'll help advance your career and business programs through anytime, anywhere access to:
A sampling of dozens of Premium how-to documents across 7 business functions and 28 associated programs
2,500+ Expert Contributor management and leadership articles
Expert advice provided via StrategyDriven's Advisors Corner
Best of all, it's FREE Forever with No Credit Card Required.
[/wcm_nonmember]
---
About the Author

Nathan Ives is a StrategyDriven Principal and Class of 1992 graduate from the United States Naval Academy. For over twenty years, he has served as trusted advisor to executives and managers at dozens of Fortune 500 and smaller companies in the areas of management effectiveness, organizational development, and process improvement. To read Nathan's complete biography, click here.
Related content from StrategyDriven
https://www.strategydriven.com/wp-content/uploads/USNAPlebes.jpg
277
425
Nathan Ives
https://www.strategydriven.com/wp-content/uploads/SDELogo5-300x70-300x70.png
Nathan Ives
2016-02-23 11:00:43
2019-07-14 14:02:38
Leadership Lessons from the United States Naval Academy – Human Connection