Using Big Data in the Classroom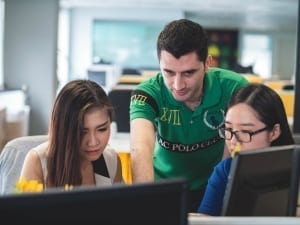 Businesses the world over are leaping into the use of big data. The analysis of the vast amounts of consumer data is helping business to create more effective marketing strategies and streamline their business process. However, it's not just businesses that are using this valuable tool. Big data is starting to make its presence felt in the classroom, and the results are proving to be worth it. As the next big step in the transformation of the modern classroom, technology is at the forefront, and big data could be the key to improving the education levels of a whole new generation. Here's how.
Better Results
The real-time analysis of the performance of each individual student is now possible through data tracking. This enables teachers and educational centers to have a more accurate view of how well a student is performing. Traditionally, student performance has been judged according to the results of an exam or test, but this is not always effective. By highlighting the strengths and weaknesses of each student, it is now possible to create more effective and beneficial learning schedules, and even allow for better group work when complementary skill sets are combined. This can help improve a child's learning skills, and create a more effective learning curve for every student in the classroom.
Reduce Drop Outs
There are an estimated 1.2 million high school dropouts in America every year. This is a huge issue for educators, and can have dramatic long-term effects on the future of every one of those children. Data analysis could be the key to tackling this issue. Modern software is able to use predictive analysis of data in order to create education programs that suit each student, and with college retention software it is possible to identify those students most at risk of dropping out. Many of the reasons for high school or college drop out can be tackled if they are identified early, which is why tech-savvy educational facilities are integrating these software models into their classroom management.
Education Customization
Blended learning, where students use a combination of online and offline resources, allows students to have much greater control over what they learn. For those with clear advantages in some areas, this allows them to tailor their lessons to their skill set. This is now possible even in large classes, with teachers able to oversee what students are doing in real time. By allowing students to work at their own pace and in areas that interest them, teachers are better able to tailor their offline lessons to those students that need extra help. This can not only help with student engagement, but it also means that those students who excel are not being held back by their peers. For those students that are slower to learn, customized lesson plans can help to keep them on a level playing field.
Data is being used by corporations and businesses in a wide variety of ways. As the full impact and potential of big data continues to expand, the classroom could end up being the most important user of data analysis, and the education of the next generation looks set to benefit from those changes.
Related content from StrategyDriven
https://www.strategydriven.com/wp-content/uploads/mimi-thian-737008-unsplash.jpg
900
1200
StrategyDriven
https://www.strategydriven.com/wp-content/uploads/SDELogo5-300x70-300x70.png
StrategyDriven
2019-01-09 11:00:39
2019-01-09 12:15:31
Using Big Data in the Classroom