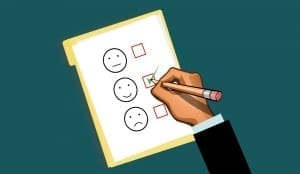 This is quite an obvious thing to say, but it's surprising how easy it is to forget when your mind is on other aspects of running your business. The happiness of your employees should be one of your priorities because, without them, your business is likely to fail. When was the last time you asked them how happy they are?
Unfortunately, taking your employees happiness for granted is easy to do, but it's not the most sensible course of action. If your team feel valued and are contributing to something great, they're more likely to put the effort in.
If you find your staff members are less than happy, take note of the following tips to help you turn it around.
Praise Good Work
If one of your team does something good, make sure they receive praise. It's human nature to enjoy receiving recognition for a job done well, and all it takes is a simple "thanks for your hard work."
Reward Hard Work
This tip is going to take a little monetary investment, but your business will be amply rewarded. If there's a member of your team who has been regularly going above and beyond what is required of them, then it deserves to be rewarded. You don't have to break the bank to do so, but time off in lieu, a bottle of wine, treating the team to cakes on Monday or a Friday lunchtime meal out will make your team feel valued. If they feel their hard work is being valued, they're more likely to want to repeat the effort.
Show that You Care
When employees feel they are cared about, productivity increases. How do you show that you care about them? You need to ask how they are and ask how they feel about working for you. Take the time to find out more about them, whether it's professionally or personally. You could consider introducing an employee survey platform to help gather the answers you need; you can visit Inpulse.com to find out more. Often, a simple "how are you" is enough to make an employee feel valued.
Take Time Out from the Daily Routine
It's possible to make the workplace a happier one by planning fun things to do away from the office. Take your employees out for the day and have some fun. If your employees feel you're doing something nice for them, they're guaranteed to be happier.
Encourage Community Minded Attitudes
Build a sense of workplace community by encouraging people to greet each. Lead by example, and others are sure to follow. What's more, make sure all company executives and managers do the same.
Foster Personal Career Goals
It might seem like something selfish you're encouraging, but when each employee has their own personal career goals, it's going to keep their minds focused. Rather than getting involved in or stressed about office politics and workplace stress, they'll have something better to think about.
It's possible to have a happy workplace as long as you take the time to make it so. If your employee survey highlights the fact that there are people in your organization who aren't happy, try the tips above, and you'll be making a difference.
Related content from StrategyDriven
https://www.strategydriven.com/wp-content/uploads/survey-3957027_1280.jpg
743
1280
StrategyDriven
https://www.strategydriven.com/wp-content/uploads/SDELogo5-300x70-300x70.png
StrategyDriven
2019-02-21 11:00:31
2019-02-21 02:14:37
A Happy Workforce is a Productive Workforce