Protect Your Supply Chain During a Pandemic by Using Automation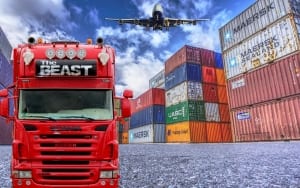 In 2004, there was a severe earthquake and subsequent tsunami that resulted in profound effects to several Asian countries, including India, Sri Lanka, Maldives, Thailand and Indonesia. These were followed by hurricanes Katrina and Rita in the U.S. as well as the Tohoku earthquake in Japan in 2011. All of these crises foreshadowed a reality that the global pandemic of 2020 confirmed: There are systemic weaknesses in most companies' global supply chains that must be mitigated. Automation may be one of the most important solutions.
THE TRUTH REVEALED
Just what did these crises show? For one thing, they demonstrated that the just-in-time philosophy that many automobile and electronics manufacturers had adopted broke down in the face of these catastrophes. Because companies only possessed just enough parts and materials for their immediate needs, they were left high and dry when their suppliers had to close down.
Another flaw that came to the surface was lack of visibility. A manufacturer might have had a close working relationship with a STmicroelectronics product distributor, for example, yet they had only a foggy idea of the tertiary vendors who were affiliated with that company. Ultimately, this failure to undergo the long and expensive process of mapping led to greater costs and a loss of transparency when disaster struck.
THE PANDEMIC PRESENTS UNIQUE CHALLENGES
COVID-19 has changed virtually everything, including the way electronics manufacturers operate. Social distancing in a warehouse setting can be difficult, and there also may be COVID-related staff shortfalls that are causing bottlenecks. This is where technology can save the day.
AUTOMATION AND THE SUPPLY CHAIN
Automated assistants or robots never become ill, and they don't need to adhere to physical distancing or other virus-related rules. A robot can deliver items between workers and can become a tireless assistant to an employee or team. Today's mobile autonomous robotic cart (MARC) technology takes automation a step further. It operates simply and efficiently without the need for WiFi, yet its sophisticated inner workings enable it to take stock of its environment and easily move and manipulate items.
Artificial intelligence (AI) is another emerging innovation that can reduce disruptions and make it possible for electronics products to reach consumers and retailers in a timely fashion and in compliance with quality standards. For example, AI can be used for route planning and even for trouble-shooting and redirecting a shipment if an unforeseen event should arise. Furthermore, chatbots can communicate with suppliers, place purchasing requests, send routine correspondence to suppliers regarding regulation compliance, research and answer questions and receive and record invoices and payments. In addition, machine learning can be used to manage warehouses more efficiently.
When disaster strikes, there is no single solution or cure that will wipe it all away and restore full functionality. However, automation brings many different tools to the table that can help to prevent supply chain disruptions and mitigate the effects of the ones that do occur. As technology continues to advance, automation's capabilities will only skyrocket.
Related content from StrategyDriven
https://www.strategydriven.com/wp-content/uploads/logistics-3382013_1280-1.jpg
802
1280
StrategyDriven
https://www.strategydriven.com/wp-content/uploads/SDELogo5-300x70-300x70.png
StrategyDriven
2020-12-23 17:00:06
2020-12-23 13:39:22
Protect Your Supply Chain During a Pandemic by Using Automation