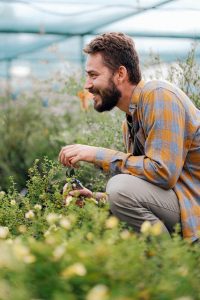 In the modern world, it seems very hard to find a job that suits your morals or provides you with any kind of satisfaction. There are far too many dull office jobs that can make you feel totally numb, and it would seem the highest paid jobs are those which are the most morally corrupt. You don't need to know the net worth of Marco Rubio to understand that politicians attract the largest paychecks, but money certainly isn't everything and it likely won't provide you with the happiness and balance that you're craving from your career. Thankfully, there are many conscious career choices that you can consider that allow you to benefit the world and its inhabitants each and every day, and it doesn't have to be as tricky as you might expect to change your life today. So, if you're interested in finding out more, then read on.
Become A Therapist
One of the most rewarding career paths that you can explore when searching for a satisfying role is therapy. Becoming a therapist will allow you to help a variety of different people from all walks of life, aiding them in relieving their mental anguish so that they can seek clarity, calmness and balance. Many people struggle with mental health problems that trouble their daily life, but training as a therapist will give you the opportunity to support those who need it the most. You can guide them in the right direction towards happiness, and they will be eternally grateful for your help. You'll likely need to take a number of qualifications before you can become a professional therapist, as it's a medical industry that requires it's team members to have the proper training.
Open A Plant Based Restaurant
Veganism is on the rise, and the animals of the world are rejoicing as a result. You can help to support this positive movement by opening a plant based restaurant, as now is the perfect time to get involved in the growing industry that's doing its bit to help battle climate change and protect farm animals. There are so many kinds of plant based restaurants that you can open, from a totally raw restaurant that boasts high nutrition dishes to a junk-food style diner that offers imitation meats and vegan cheeses to satisfy those unhealthy cravings. No matter what kind of plant based restaurant that you open, you can welcome each and every customer with a smile on your face knowing that the food you offer doesn't harm the planet or its inhabitants. Ensure you have the relevant food hygiene and food preparation certificates and qualifications before you serve your first customer, as you can make and sell food without the right paperwork in place.
Start A Yoga Practice
Another brilliant idea that you can pursue to feel a sense of satisfaction from your career can be to start your own yoga practice. Yoga has long been a popular practice for many different cultures around the world, as it helps to strengthen both the body and the mind at the same time. Yoga is such a calming practice that can help you to feel recentered while also stretching your muscles and encouraging you to work up a sweat, so it's beneficial in a number of different ways. Many people love yoga and actively take part in daily sessions, so setting up a yoga practice could be a very successful idea to pursue. You can choose a specific kind of yoga as there are many types, and consider going on a full journey to the origins of your chosen yoga to experience it in its entirety. You'll need some kind of training to become a yoga teacher, but you can just as easily hire a yoga teacher if you simply want to own the practice.
Create Eco-Friendly Clothing
If you're interested in sustainable materials and want to rid the world of fast fashion and it's harmful side effects, then creating your own eco-friendly clothing is an excellent way to offer an alternative. There are so many options that you can explore when it comes to eco-friendly fashion, from homemade tie dye t-shirts made using natural dyes to woven hemp bags that can last a lifetime, so it's totally up to you what kind of clothing business you want to pursue. Just make sure that the materials and operations that you use to manufacture your products are as earth conscious as possible, as you should aim to avoid adding to the masses of damage already being done to the planet. You can sell your clothing and accessories at market stalls or on your own web store.
Start An Organic Farm
Starting an organic farm is a wonderful way to spend your days, but it's a hard-working role that requires many hands-on jobs such as digging, lifting heavy objects and more. Though it may be hard work, being an organic fruit and vegetable farmer can be a seriously rewarding job that provides you with masses of satisfaction. Watching your seeds transform into produce bearing plants without the need for any harmful pesticides or chemicals that kill off insects in their millions inspires a happiness like nothing else can, and many people will flock to your farm to buy your natural fruit and vegetables. It's a good idea to get your farm certified as organic by the relevant bodies, as this makes it easier to confirm your authenticity if anyone were to ask. Organic fruits and vegetables taste so much better than mass produced, genetically engineered and chemical covered alternatives, so your produce will fly off the shelves.
Finding a conscious career that provides you with total job satisfaction has never been so simple when you can take the opportunity to read through and research some of the excellent ideas described above. You don't need to stay in a monotonous, boring and unfulfilling role for much longer, as these options can help you to achieve the happiness you are craving.
https://www.strategydriven.com/wp-content/uploads/pexels-anna-shvets-5028005.jpg
1800
1200
StrategyDriven
https://www.strategydriven.com/wp-content/uploads/SDELogo5-300x70-300x70.png
StrategyDriven
2022-02-27 09:00:11
2022-02-26 16:01:37
Finding A Conscious Career That Provides Total Job Satisfaction