Your organization is going to face a crisis. This is not a question of IF but WHEN. Our world is too complex, markets too volatile, and technology too fast-paced for us to relax into complacency about organizational safety and normalcy.
What's a leader to do? How is a leader to be ready? How can leaders prepare, knowing disasters are becoming commonplace?
[wcm_restrict]We explored those questions while researching for our recent book, Navigating an Organizational Crisis: When Leadership Matters Most
, (available on Amazon) and came away with some insight about how leaders might ready themselves. We call it "pre-resilience." The "pre" is intentional because it seems foolish to us to think that resilience is something that pops up when disasters test you. We believe there's more to it than that. Just as you prepare your organization for disaster response, crisis communications, and continuity of operations, you can also prepare yourself.
The basic idea is to know and to appreciate that you already have a tremendous inventory of personal, internal data about how you respond in a crisis. Often it is overlooked or considered too trivial to study. Indeed, it is not and we encourage leaders to dig into it.
Our core suggestion is that you allow your own stories to inform you. We invite you to recall moments in your life in which something unexpected happened, something that surprised you and upset the norms of the day. These need not be major calamities such as divorce or illness. They can be much more mundane.
How do you act when you lose electricity?
What did you feel when your daughter smashed a tooth falling off a bike?
What were your instinctive priorities when you saw the 9/11 events on television?
How did you handle things when your checkbook revealed a significant error not in your favor?
You have probably hundreds of examples of experiences, and from them you can cull a sense of your tendencies and behaviors in the face of an unexpected turn of events or sudden difficulties.
As you collect your own examples, compare what you did in one incident with your response in another. Watch for the patterns. Step outside yourself for a moment and observe your behaviors. Much can be gleaned from your simple stories because you can see into the heart of each incident, uncluttered by the complexity of an organization, the pressures of the moment, and the trappings of your role as a leader.
Leaders have a wealth of human experience to draw on which should never be deep-sixed. For some reason, however, when people step into the executive suite there is an expectation that their behavior should be of a mold: heroic, upbeat, courageous, and perhaps larger than life. Setting a leader up like that can be a stifling and even self-defeating. The idea that leaders have some special aura only removes them further from their genuine, authentic, and human selves, which is precisely what they need at hand to help their stressed organizations.
Use your own stories to educate yourself. Take some time to do this now – because there is no free time during a crisis to be wondering if your behavior is normal and consistent with who you are. Organizations turn to their leaders with intensified demands during crisis. Start building your pre-resilience muscles now.[/wcm_restrict][wcm_nonmember]
---
Hi there! This article is available for free. Login or register as a StrategyDriven Personal Business Advisor Self-Guided Client by:
Subscribing to the Self Guided Program - It's Free!
[/wcm_nonmember]
---
About the Authors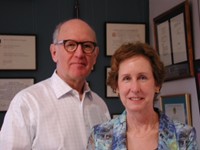 A 25-year veteran in senior human resources and leadership and development roles in four multinational companies, Harry Hutson is now an independent consultant. He has passion for talent development, change management, organizational integration, and – most of all – finding a way when people feel lost or confused and tough choices need to be made. He lives in Chapel Hill, NC and teaches classes in Executive Education and the MBA Program at the Kenan-Flagler Business School at the University of North Carolina.
Martha Johnson is a leadership expert who draws on the lessons she learned as an executive with a more than 35-year career in business and government. Johnson is former Administrator of the General Services Administration under President Obama and also served for eight years in the Clinton Administration. Her private sector career has spanned the information technology, architecture, strategic consulting, and automotive industries.
https://www.strategydriven.com/wp-content/uploads/HankMartha.jpg
240
320
Nathan Ives
https://www.strategydriven.com/wp-content/uploads/SDELogo5-300x70-300x70.png
Nathan Ives
2016-03-09 11:00:17
2016-05-14 14:26:04
Leaders: Build Your Pre-Resilience for Times of Crisis